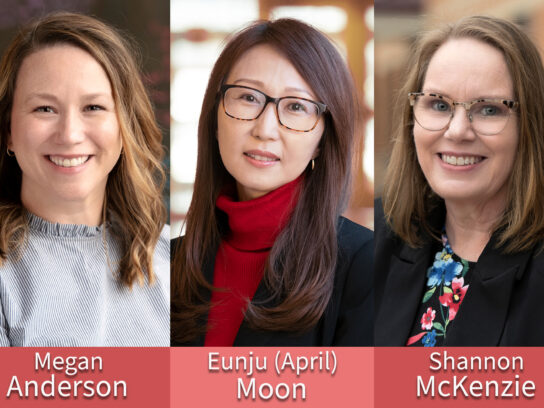 Montgomery County Public Schools (MCPS) announced its three finalists for MCPS Teacher of the Year Award. They are Megan Anderson from Chevy Chase Elementary School; Eunju (April) Moon from Ridgeview Miiddle School and Shannon McKenzie from Clarksburg High School.
The Teacher of the Year Award honors a full-time kindergarten through Grade 12 teacher with at least six years or more of teaching experience in Montgomery County. Nominations were submitted by staff, students, former students, parents, administrators and the community. A committee of MCPS administrators reviews the nominations and recommends finalists. The selection committee may observe the candidates in the classroom and interview the candidates prior to the selection of three finalists.
In the announcement from MCPS, the three teachers are described:
Megan Anderson is a National Board Certified 5th grade teacher and team leader at Chevy Chase Elementary School. She holds a master's degree in elementary education and is also certified in bilingual special education. Anderson instills a belief in her students that with hard work they can accomplish anything.
Parents and colleagues say she is passionate, kind-hearted and patient. One of her former third grade students wrote, "She never, ever made me feel that I wasn't the smartest kid in the class. Even when I didn't do my best, she made me feel like I was worthy. … I am special because of her."
Eunju (April) Moon is a sixth grade English teacher at Ridgeview Middle School. Coworkers describe her as caring, kind and masterful at building relationships with her students. Students say she is encouraging and makes class fun.
Moon is also a lifelong learner and often the first to try something new. When MCPS first unveiled the Canvas platform, she first learned how to use it and then trained the English department on its use. She actively participates in several learning committees, and pursues opportunities to increase her talents in instructional strategies and social issues that can affect student success.
Shannon McKenzie is a child development teacher at Clarksburg High School. An educator for 23 years, she has been teaching in MCPS for seven. She previously owned and operated a private preschool for 16 years, and worked in the Preschool Education Program (PEP) program at Germantown Elementary School.
Colleagues say she is an energetic educator with excellent management and organizational skills, creates a welcoming and inclusive classroom with positive encouragement, challenges students out of their comfort zone, and motivates students to learn.
Read more about each teacher at the MCPS website here.
The winner will be announced at an in person awards celebration planned for April and will go on to compete for Maryland Teacher of the Year.
The April celebration will also honor other MCPS employees and partners for their extraordinary work. Learn about the awards on the MCPS website here.
(Photo courtesy MCPS)