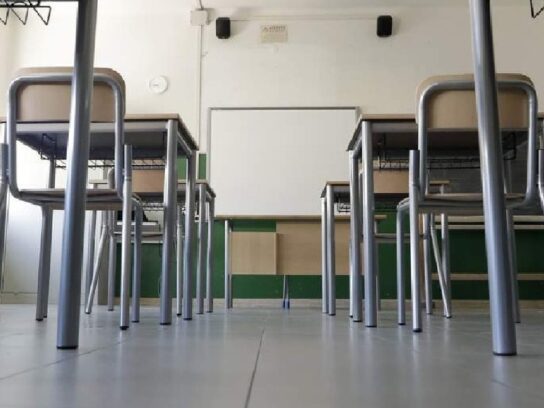 Montgomery County Public Schools (MCPS) officials met virtually Monday night to highlight safety, security and student well-being measures in schools. 
Last week, students at Seneca Valley High School in Germantown were evacuated twice due to safety threats, including reports of a bomb threat on Dec. 8. Students also sheltered in place in October after the school received another threat, and in the same month a Seneca Valley football game against Northwest High School was cut short following a series of student fights. 
In November, a 16-year-old Montgomery Blair High School student was charged as an adult after allegedly stabbing another student in the Silver Spring school's parking lot. One day after the stabbing, the suspect's relative — also a juvenile — was arrested after bringing a knife to the school. Also last month, the Montgomery County Police Department (MCPD) investigated the report of someone who threatened to bring a gun to Blair, but did not find anything. 
On Monday night, MCPS Interim Superintendent Dr. Monifa McKnight regretfully noted the Nov. 30 shooting at Oxford High School in Michigan, in which four students were killed. 
Every safety situation is assessed for its potential severity, said Dr. Peter Moran, Director of Learning, Achievement, and Administration. If there is an immediate threat like a weapon on-campus, school administrators immediately contact police. If a threat is made outside of school, like through social media, administrators call police and officers will visit the student's home at any hour of the day. Following police response, MCPS uses the Student Code of Conduct as a guide for consequences. Students could be suspended or recommended for expulsion. In addition to consequences for students, MCPS conducts a behavior threat assessment to determine the level of threat posed by the student and figure out how to program mental health support for that student, Moran said. 
He said school administrators and MCPS security monitor social media. The school system also gets information from parents and other students about what is being posted. When MCPS becomes aware of a potential threat made online, the school system tries to find out who made the post and works with security to assess threat level.
"We can determine who the students are in the post and we follow up to find out information about the reasons behind the posting," Moran said.
Restorative justice is an approach to conflict-resolution that includes self-care, relationships, recovery and restoration, said Shauna-Kay Jorandby, Director of Student Engagement, Behavioral Health, and Academics. It focuses beyond discipline and allows students to actively be part of problem-solving. 
"So that when something does happen, it's not, 'Oh you're excluded from school for a day, or two days, or three days, or even one year.' Because our students come back," Jorandby said. The strategy is about addressing the root causes of the problem or conflict. She recalled powerful restorative conversations she facilitated between mothers and daughters that solved recurring issues. All middle and high schools have a stipended restorative justice coach, and some have two or three, she said. Jorandby emphasized that restorative justice does not negate the need for consequences.
"But in 99% of what happens in schools, it not only is appropriate, but it's important and it's necessary," Jorandby said.
During an August Board of Education meeting, school leaders announced that instead of having school resource officers (SROs), community engagement officers (CEOs) would be assigned to school clusters, however they will not be inside the school building or on campus. Rather, officers would be stationed in surrounding neighborhoods outside the school.
CEOs serve as a liaison between county law enforcement agencies and MCPS, said Carmen Facciolo, Assistant Police Chief with the MCPD Community Resources Bureau. They are not called to schools by principals but through the police department's emergency center, so dispatches can be tracked and police can make sure they are sending the appropriate resources to schools. All schools also have an emergency plan and on-site emergency team made up of staff selected by school principals, MCPS Chief Safety Officer Edward Clarke said. The team would help the principal if the school faced a crisis.