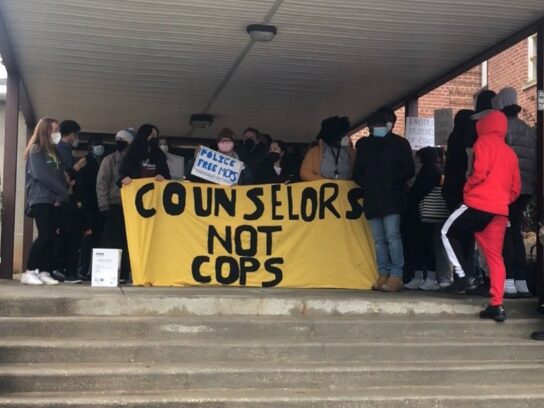 Montgomery County Public Schools (MCPS) students held a rally outside a Board of Education meeting on Thursday to urge MCPS to support police-free schools and more mental health resources for students. 
"As an African American student, and many Black and brown students here today, we realize that the fear that we see outside when people are being arrested wrongfully and shot on the streets or attacked by police — we don't want to be in schools with that same fear and that same notion that something can happen to us as students," said Shelton Fantroy, a senior at Albert Einstein High School. He said students are scared to have armed police in schools.
"Policing students does nothing to help students," said Noura Oseguera-Arasmou, a junior at Paint Branch High School. "On the contrary, marginalized communities, students of color, students like me, students like my peers, and my family and my friends are marginalized and we are put into spaces that we aren't able to escape."
MCPS is planning to adjust its Community Engagement Officer (CEO) model, which replaced the traditional school resource officer (SRO) program last year. During Thursday's meeting, school officials and board members discussed what officials call the "CEO 2.0" Program. 
Ruschelle Reuben, MCPS Chief of Teaching, Learning and Schools, said MCPS is not encouraging the policing of students.
"What we are saying is we are working to build relationships to have our CEOs be trusted partners and members of our school community, to be able to have a direct line of contact with our schools," Reuben said. She emphasized they do not respond to school incidents covered under the MCPS Code of Conduct. They will take the lead in cases of death, sexual assault, robbery and other incidents.
Under the proposed updated model, CEOs would have designated work stations at high schools, but would not be permanently stationed there. Students said the solution to preventing school violence is not more police presence.
"Instead, we need things like restorative justice and things like mental health programs in our schools so that we can reduce the effects of, first of all, having SROs in our schools," and reduce student incidents, Fantroy said.
"We need mental health resources," Oseguera-Arasmou said. "Time and time again, students are asking, we are begging, we are fighting for mental health resources, increased mental health support."
A media release for the rally lists measures including: "1) restorative justice practitioners and training for all adults and students in schools, 2) culturally competent, and trauma-informed social workers and mental health practitioners, 3) positive youth development programming and wrap around support for students."
In January, a 15-year-old student was shot by another student at Magruder High School in Derwood. This month, a fight involving spectators and players broke out toward the end of a boys' basketball game between James Hubert Blake and Winston Churchill high schools. 
MCPS students and community members rallying against Community Engagement Officer presence in schools and urging @MCPS to support restorative justice/mental health resources.

Some background on proposed MCPS "CEO 2.0" Program: https://t.co/Y9zZeTIF7h. @mymcmedia pic.twitter.com/8nSwe9c7nC

— Maryam Shahzad (@maryam_mcm) February 24, 2022