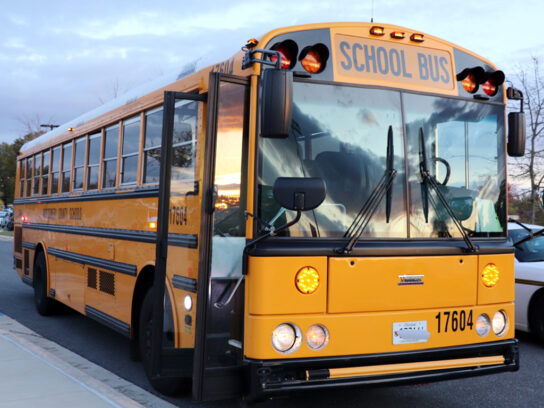 Montgomery County Public Schools provided an update Wednesday about how the coronavirus outbreak affects the community and school operations.
According to a letter from MCPS, schools remain open at this time. MCPS reminds the public that decisions about school closures during a public health crisis are made by the Montgomery County Department of Health and Human Services.
The message from the school system may be viewed online in seven languages.
MCPS has suspended all out-of-state field trips and athletic events effective Monday, March 16 until further notice. The school district will update this no later than the week of April 20. All scheduled trips and athletic events within Maryland will continue as planned.
Spring break is scheduled for April 6-13 and at this time there are no changes to spring break.
The school district has prepared a variety of instructional materials and resources for students in the event of a short-term or long-term school closure. These materials will be provided in hard copy format, as well as online via the myMCPS Canvas platform and the MCPS website. These materials and resources would be made available only in the event that schools are closed.
Health officials continue to believe there is a low health risk for the schools.  Therefore, all healthy students and staff can and should continue to attend school as normal. Parents or guardians who are concerned out of an abundance of caution and or have a health-related reason to keep their student home from school should know that absences will be excused. The schools are asking that parents provide a note within three school days after their children return to school. Students will be permitted to make up work upon their return to school.
Our schools remain open and instruction will continue as usual. As a reminder, decisions about school closures during a public health crisis are made by the county's Department of Health and Human Services.

— MCPS (@MCPS) March 11, 2020
How to Talk to Your Children About Coronavirus
Talking to Children About COVID-19 (Coronavirus): A Parent Resource (More information to help conversations with children)
Just for Kids: A Comic Exploring the New Coronavirus
Information and Resources
Information about school closures or updates relating to the coronavirus will come directly from county health officials and MCPS. All updates and critical information will be shared with all MCPS families through a number of communication tools, including BlackBoard ConnectEd, ConnectEd phone calls, the MCPS website and coronavirus webpage and official MCPS social media pages (Twitter and Facebook).
Best Health Practices
The CDC and local health officials continue to share the following best practices as important steps to prevent the spread of this virus:
Avoid interaction with people who are sick.
If you are sick, please stay at home.
Do not travel if you are sick.
Wash your hands often with soap and water.
Use an alcohol-based sanitizer if soap and water are not available.
Cover your mouth and nose with a tissue or your sleeve when coughing or sneezing.
Individuals who believe they are at risk or have been exposed to the coronavirus are encouraged to contact their personal healthcare provider. Unless you recently traveled to a country on the CDC list, there is no need for you to self-quarantine. You may also call the Montgomery County Department of Disease Control and Epidemiology at 240-777-1755 or the Maryland Department of Health Infectious Disease Bureau at 410-767-6700. If you are not able to be seen by your primary care doctor, you are encouraged to contact an urgent care facility or your local emergency room. Visit https://www.montgomerycountymd.gov/HHS/RightNav/Coronavirus.html for additional guidance.