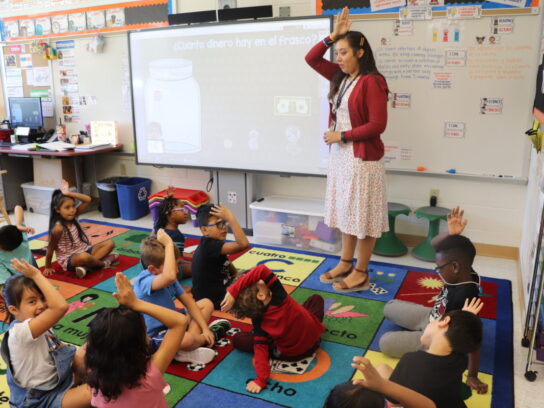 According to the newly-released Montgomery County Public Schools Reopening Guide, there will be a teacher in every classroom, and facial coverings are not mandatory.
With the start of school just 10 days away, Superintendent Monifa McKnight noted that her three priorities for the coming school year are "building and rebuilding trust with students, staff and community; supporting mental health and well-being for all students and staff, and returning the district's focus to equitable teaching and learning."
Masks will not be required in school buildings or on school buses, "but this is subject to change based on community transmission levels and guidance from public health authorities," it states in the reopening guide.
MCPS will not engage in contract tracing when student or staff members test positive for COVID-19. However, staff and families will receive notice of an exposure "in a high-risk cohort situation or local outbreak."
Quarantining will no longer be recommended for those exposed to someone with COVID-19 "except in certain high-risk congregate settings." Students can continue in school even if considered a close contact to someone who tested positive as long as they are asymptomatic, wear a mask and test for the virus.
MCPS is returning to its pre-pandemic grading policies while still "Putting students first and grading with grace."
Meals
This year, MCPS will return to its policy in which students qualifying for Free and Reduced-price Meals need to scan a card or enter their student identification number to access their account and receive free breakfast and lunch. To be eligible, an application must be completed each school year. That application is available on line at www.MySchoolApps.com.
Breakfast will cost $1.30. Lunch is $2.55 for elementary school students and $2.80 for middle and high school students.
Students can eat in the cafeteria as well as outdoors. High School students will have open campus lunch.
Here are six things to know for Thursday, Aug. 18. They include information about the MCPS Reopening Guide, the 2022-2023 Back-to-School Fair, bus route information and an update on the Antiracist Audit report: https://t.co/xXtHuDaZ3I

— MCPS (@MCPS) August 18, 2022