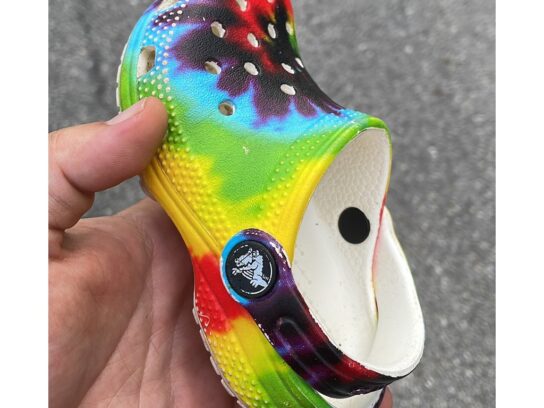 A father made an endearing post to Twitter asking for the public's help in locating his son's missing shoe on Aug. 3. Within the day, the tweet went viral, garnering over 10,000 retweets.
Labor organizer Jonah Furman went out with his son for a 1 mile walk in the Forest Glen area of Silver Spring. At some point during the walk, the dad realized his son was one tie-dye Croc short.
"He demands its return," the father wrote in the soon-to-be recognized tweet. "I'm envisioning a viral tweet thing where we somehow find it."
Just 16 hours later, Furman received an email from a man with the subject line "Found shoe." The man told Furman a Good Samaritan had placed the sole shoe on the post of a nearby pedestrian bridge.
What would have been an otherwise mundane find, the man recognized the shoe from his Microsoft Network homepage. Rather than leave the colorful Croc abandoned, the man took it home and "Googled" Furman to reunite the shoe with its rightful owner.
The Croc is now back where it belongs on Furman's son's feet, all thanks to the power of social media. "What a ride," Furman tweeted.
I lost my sons croc on a 1 mile walk in the Forest Glen area of Silver Spring MD yesterday. He demands its return. I'm envisioning a viral tweet thing where somehow we find it. Thank you pic.twitter.com/45sQFHnfa5

— Jonah Furman (@JonahFurman) August 3, 2022