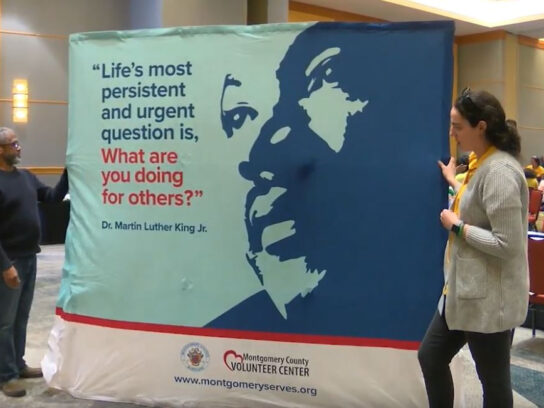 Montgomery County Volunteer Center Hosts Annual Event at Marriott Conference Center
Thousands of residents are expected to honor Dr. Martin Luther King, Jr.'s life and teachings by taking part in Montgomery County's MLK Day of Service event on Jan. 20.
The annual event, organized by the Montgomery County Volunteer Center, takes place from 1 to 3 p.m. at the Bethesda North Marriott Hotel and Conference Center, 5701 Marinelli Road. Collection boxes for new and used coats will be available.
Volunteers of all ages will have the opportunity to get involved in a wide variety of service projects, and students can earn student service learning hours from Montgomery Country Public Schools.
Projects include packaging food for the needy, creating scarves for hospice patients, crafting Valentine's Day cards for seniors, and more.
The event will also include a volunteer fair where representatives of dozens of local nonprofits and government agencies will be on hand to offer information about their organizations and ways residents can volunteer throughout the year.
In addition, the Volunteer Center's partner agencies are coordinating Martin Luther King Day of Service events in Gaithersburg, Germantown, Olney, Rockville, Silver Spring, and Bethesda. Several organizations will hold special volunteer events throughout the holiday weekend.
All events are free, but space is limited and advance registration is required. To learn more about the program and to register, visit www.montgomeryserves.org.
Melissa Jackson Cannon from Montgomery Volunteer Center talks about the Day of Service in the short video:
Additional Day of Service Locations
Below is a list of the Day of Service locations with links to register:
Gaithersburg: Monday, Jan. 20 from 9 to 11 a.m.  FILLED
Seneca Creek Community Church, 13 Firstfield Road
Hosted by Seneca Creek, partnering with City of Gaithersburg
Click here to register.
Germantown: Monday, Jan. 20 from 1 to 3 p.m.
Journey's Crossing, 12900 Cloverleaf Center Drive
Hosted by Journey's Crossing, partnering with Alpha Kappa Alpha Sorority Inc., Xi Sigma Omega Chapter
Click here to register.
Olney: Monday, Jan. 20 from 11 a.m. to 1 p.m.
Shaare Tefila Congregation, 16620 Georgia Ave., Olney
Hosted by MedStar Montgomery Medical Center and the Greater Olney Interfaith Clergy Association, coordinated by Leadership Montgomery CVC
Click here to register.
Silver Spring: Monday, Jan. 20 from 10 a.m. to 1 p.m.  FILLED
Silver Spring Civic Building, 1 Veterans Plaza, Silver Spring
Hosted by Delta Sigma Theta Sorority Inc., Montgomery County Alumnae Chapter
Click here to register.
Rockville: Monday, Jan. 20, 10 a.m. to noon
Bauer Drive Community Center, 14625 Bauer Drive, Rockville
Hosted by Zeta Phi Beta Sorority Inc., Eta Pi Zeta Chapter
Click here to register.
To view more opportunities to serve on MLK Day and the weekend of Jan. 18, 19, and 20, click here.