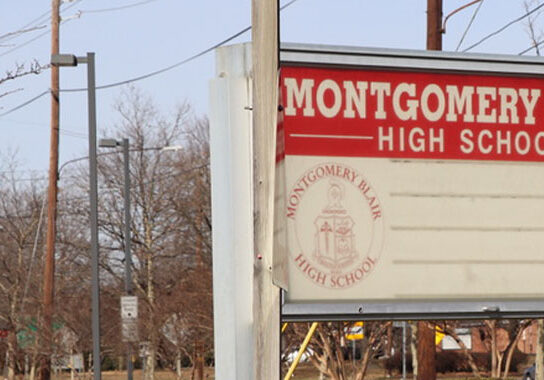 A Montgomery Blair senior won U.S. Rep. Jamie Raskin's 2020 Congressional App Challenge. Kevin Xu, along with teammate Leon Si, a junior at Victoria Park Collegiate Institute in Toronto, Canada, created a free virtual whiteboard app that is designed to improve virtual learning for teachers and students.
The teenagers designed Tabulo, which connects a mobile device to a computer and turns it into a drawing pad that enables users to draw or write on their phones. Their designs and writings are synced to the computer in real-time.
The students saw the need for teachers to use a whiteboard like they do in the physical classrooms. Without Tabulo, they have to use a computer mouse, which is limiting, according to the students.
Tabulo won Best App and Best Education App awards in a Silicon Valley competition that was judged by such high-powered techies as Steve Chen, cofounder of You Tube.
The students have a website for the program, which includes a three-minute video about it.
"It is an honor to represent Maryland's 8th District, which is home to so many talented and inspired students, as evidenced by the many excellent entries submitted in this year's Congressional App Challenge," Raskin wrote in a news release. "I commend all of the student coders who submitted innovative and creative apps, and I am immensely grateful for America's dedicated teachers and educators whose commitment to their students prevails during an unprecedented era of virtual learning."
The Congressional App Challenge began in 2014 as an effort to promote Science, Technology, Engineering and Math (STEM) and to encourage students to learn coding and computer science skills. The two young men are expected to demonstrate their app to members of Congress.
Congressman Raskin Announces MD-08 2020 Congressional App Challenge Student Winners. Congratulations to Kevin Xu, Blair Senior & Congressional App Challenge winner! 🏆 👏🏽👏🏽👏🏽Kevin's Tabulo App is impressive! View the demonstration, https://t.co/2pwvF9T6g7 Thank You @RepRaskin

— Renay Johnson (@blairprincipal) December 12, 2020
I'm thrilled to announce the #MD08 Winners of the 2020 @CongressionalAC! Congratulations to Kevin Xu and Leon Si for their outstanding work in creating Tabulo, a free virtual whiteboard app to dramatically improve the virtual learning experience for teachers & students. pic.twitter.com/CUScj8o0PC

— Rep. Jamie Raskin (@RepRaskin) December 12, 2020