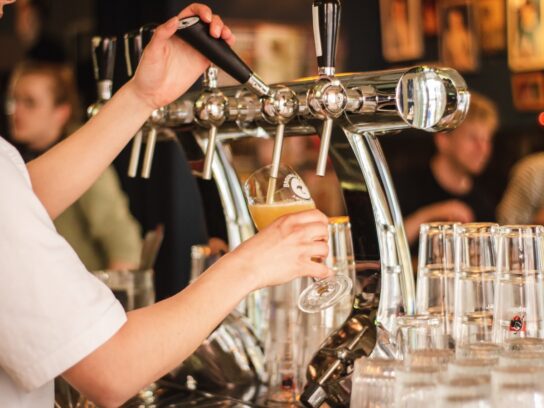 Maryland's annual celebration of the state's craft beer industry, known as FeBREWary, takes place this month. According to the Brewers Association of Maryland, there are more than 140 operating breweries in Maryland, with 15 located in Montgomery County.
The Montgomery County Department of Environmental Protection (DEP) and local breweries began a program in 2019 known as 'Brews and Bulbs', where residents could trade in old incandescent or compact fluorescent light (CFL) bulbs for free LED light bulbs at craft beer events during February.
This year the program has changed slightly and is named "Beers. Burgers. Bulbs." and aims to encourage residents to electrify everything. In addition to the light bulb swap, the events include a demonstration of induction cooking by local chef, Hunter Karametos from Steeze Burger. Chef will be making burgers using an induction cooktop. There will be samples to try!
Participants may bring as many bulbs as they have available to receive a maximum of three LED bulbs for free.
The program is designed to assist residents in cutting down on electric bills and to encourage residents to move toward the use of electric induction cooking.
Here's the schedule:
Friday, Feb. 24, 2023 from 4 – 6 p.m. at Astro Lab Brewing
8216 Georgia Avenue, Silver Spring
Saturday, Feb. 25, 2023 from noon – 4 p.m. at True Respite Brewing Company
7301 Calhoun Place #600, Derwood
Sunday, Feb. 26, 2023 from 11 a.m. – 6 p.m. at Two Story Chimney Ciderworks
7115 Damascus Road, Gaithersburg