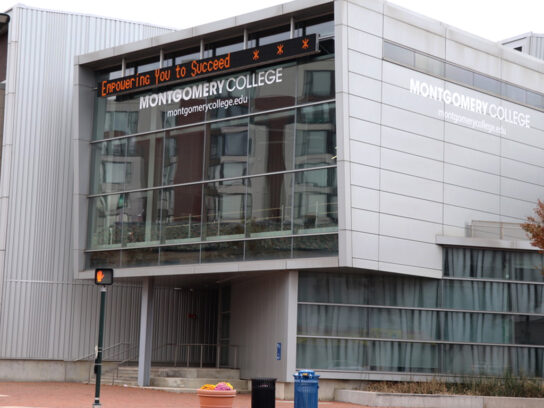 El Departamento de Trabajo de EE. UU. otorgó $1,6 millones en fondos de subvención a Montgomery College para ayudar a los estudiantes subrepresentados a encontrar empleo en tecnología de la información (TI) y seguridad cibernética.
En un comunicado de prensa, Montgomery College anunció que la subvención financiará completamente el programa Tech Metro Area Pathways de la escuela.
Conocido más como "TechMAP", el programa fue diseñado para ayudar a los estudiantes subrepresentados, incluidas mujeres y personas de color, a prepararse para carreras en tecnología de la información y seguridad cibernética.
Específicamente, el programa buscó "mejorar los resultados, las credenciales obtenidas y la proporción de participantes que encuentran trabajos de calidad" en esos sectores, según el resumen del proyecto de Montgomery College.
Montgomery College is one of 13 colleges to be awarded funding from the U.S. Department of Labor Employment and Training Administration's $45 million Strengthening Community Colleges Training Grant Program. https://t.co/L2AkaWosIt pic.twitter.com/79pAEruW8R

— Montgomery College (@montgomerycoll) September 16, 2022
La subvención fue parte de la segunda ronda del Programa de Subsidios de Capacitación Fortalecer Colegios Comunitarios del Departamento de Trabajo. El programa tenía como objetivo "desarrollar la capacidad de los colegios comunitarios para satisfacer la demanda del mercado laboral de una fuerza laboral calificada" en diferentes sectores, según un comunicado de prensa del Departamento de Trabajo.
Montgomery College fue uno de los 13 beneficiarios de subvenciones en esta ronda de subvenciones. En total, el Departamento de Trabajo otorgó $45 millones en la segunda ronda de subvenciones. Además, el departamento otorgó $40 millones durante la primera ronda de subvenciones en enero de 2021.
La Administración de Empleo y Capacitación del Departamento de Trabajo administró este programa.