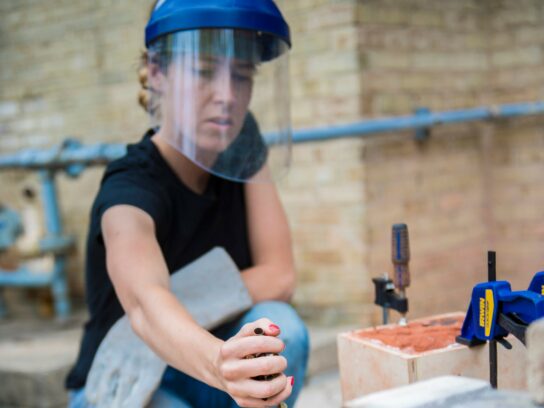 Montgomery College is presenting a unique art exhibit at the Sarah Silberman Art Gallery of the Rockville Campus from Oct. 23 through 31. Stephanie Mercedes, Montgomery College's artist-in-residence in the Rockville and Germantown Art Department, guided art students in a project melting bullet casings to make school bells. Each bell size correlates to the number of fatalities from school shootings in the country for a particular year.   There were 61 school shooting fatalities in the year 2018 so the bell for that year is made from 61 bullet casings.
An opening reception is scheduled for Wednesday, October 23 from 11:30 a.m. to 1 p.m. and provides an opportunity to meet Mercedes and art students involved in the project. The reception will feature the bells and screens with videos of participants answering the question: When do you feel safe?
Mercedes uses weapons confiscated and deactivated by the D.C. police, melts down the metal, and transforms them into musical installations and instruments. The intention of her work is to take the materials of violence and turn it into its opposite: art.
This project has given students a voice on the current crisis of school shootings in country.
Photos by Pete Vidal, courtesy of Montgomery College
The Sarah Silberman Art Gallery is located at the Montgomery College-Rockville Campus in the Paul Peck Art Building, 51 Mannakee Street. The reception is free and open to the public.