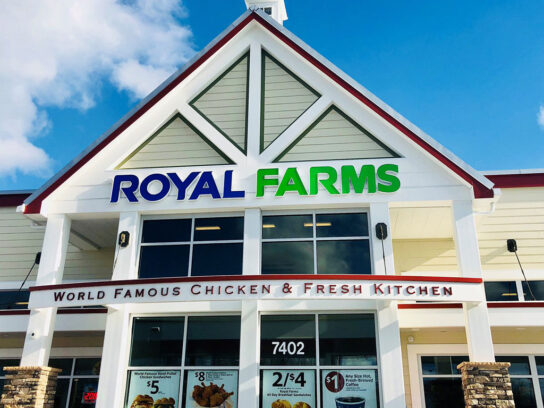 Gaithersburg is moving closer to getting Montgomery County's first-ever Royal Farms. Its fate will be determined on Jan. 6, 2020.
On Monday, Mayor Jud Ashman and the Gaithersburg City Council held a public hearing about the schematic development plan to build a Royal Farms and Starbucks in the area of North Frederick Avenue and MD 335 at Watkins Mill as part of the new Spectrum community plan.
The Gaithersburg Planning Commission is holding its record open regarding the plan until 5 p.m. on Nov. 6. Gaithersburg's Mayor and Council moved to keep their record open on the matter until 5 p.m. on Dec. 11
The final action regarding the plan will be determined by the council in January.
Next up: A Joint Public Hearing for a Schematic Development Plan for @Royal_Farms (retail building/gas station/car wash), @Starbucks, & a 4,500 sq. ft. building to accommodate retail/restaurant/office uses in Spectrum at Watkins Mill Rd & N Frederick Ave. https://t.co/o2XdKQC4Mb pic.twitter.com/460rLpAjyR

— City of Gaithersburg (@GburgMD) October 22, 2019
Learn more about this on our Project Page at https://t.co/h5WbMeyNR7 pic.twitter.com/L0i0knJ3Fm

— City of Gaithersburg (@GburgMD) October 22, 2019
Mayor & City Council move to hold their record open until 5pm on Dec. 11, w/ anticipated Policy Discussion scheduled for Jan. 6, 2020.

— City of Gaithersburg (@GburgMD) October 22, 2019
Previous Post
Public Hearing Will Help Decide Fate of Potential Royals Farms in Gaithersburg