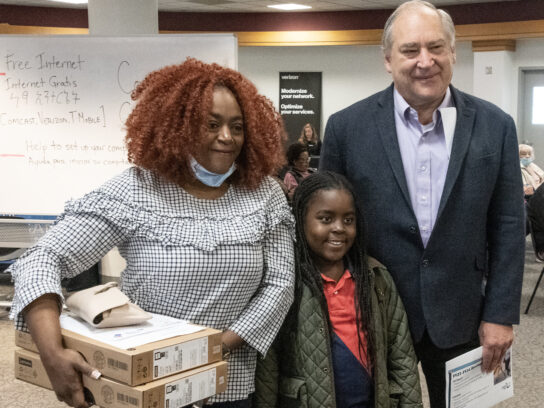 Montgomery County will distribute the remaining 10,000 laptops in the Montgomery Connects Computer For You program to low-income individuals at different events from February to April while supplies last. 
The next computer distribution event will be held on Thursday, Feb. 16 at the Executive Office Building Cafeteria in Rockville from 3 -7 p.m. Residents of seven years or longer who do not have a computer are eligible to receive one from the county. Appointments to pick up a loaned computer are required for each individual and can be made through Eventbrite linked on the county's website. The rest of the upcoming dates, times and locations for pickup events through March 28 are also listed on the website.
All residents must show a photo I.D. or a piece of mail showing a Montgomery County address if it is not already listed on the I.D. For residents under 18, a school I.D., report card or the ability to log into a student online account is acceptable. An email address is also needed when picking up the laptop and children can use their parent or guardian's email.
Before registering for an appointment, residents must have a Montgomery County library card number. Library cards can be obtained from a library in person or individuals can receive a digital library card number through the Montgomery County Public Libraries website. 
Montgomery Connect's goal is to close the digital equity gap by providing access to a home computer, affordable high-speed broadband internet services and digital skills training. In a press release, County Executive Mark Elrich said the program is moving Montgomery County in a positive direction.
The program has distributed 40,113 computers through Feb. 13, according to the press release. Of the recipients, 84% have an annual household income of less than $50,000 and 35 percent have an annual income of less than $25,000. 
The laptops are owned by Montgomery County for three years, which is in accordance with regulations from the federal grant funding the program, and it will determine the next steps with computers once the loan period ends. 
(Featured photo of the Nov. 3 computer pickup courtesy of Montgomery County)
https://t.co/Kyx529CPDm
To date, the Montgomery Connects program distributed 40,113 computers primarily to low-income households, with 84% of recipients having an annual household income of less than $50,000 & 77% of the computers being distributed to Black & Latino residents.

— Montgomery County MD (@MontgomeryCoMD) February 15, 2023
https://t.co/yknj4MSXdG
Let's bridge the digital divide and ensure everyone has access to the tools they need to succeed in today's digital world. #MontgomeryConnects #DigitalEquity #BridgeTheGap

— Montgomery County MD (@MontgomeryCoMD) February 15, 2023
Thursday, Feb. 16. 3-7 p.m. Executive Office Building Cafeteria
Friday, Feb. 17. 10:30 a.m.-2:30 p.m. White Oak Recreation Center
Tuesday, Feb. 21. 11 a.m.-3 p.m. Upcounty Regional Services Center
Wednesday, Feb. 22. 4-8 p.m. Germantown Community Center
Thursday, Feb. 23. 10:30 a.m.-2:30 p.m. East County Community Center
Friday, Feb. 24. 10:30 a.m.-2:30 p.m. White Oak Recreation Center
Monday, Feb. 10:30 a.m.-2:30 p.m. East County Community Center
Tuesday, Feb. 28. 10 a.m.-2 p.m. Plum Gar Community Center
Wednesday, March 1. Noon-4 p.m. Kensington Park Library
Saturday, March 4. Noon-4 p.m. Quince Orchard Library
Tuesday, March 7. 11 a.m.-3 p.m. Germantown American Job Center
Thursday, March 9. 3 p.m.-7 p.m., Gaithersburg Library
Friday, March 10, 11 a.m.-3 p.m. Long Branch Library
Tuesday, March 14. 3-7 p.m. Long Branch Library
Wednesday, March 15. Noon-4 p.m. Kensington Park Library
Friday, March 17. 10 a.m.-2 p.m. White Oak Recreation Center
Saturday, March 18. 11 a.m.-3 p.m. Germantown Community Center
Tuesday, March 21. 11 a.m.-3 p.m. Germantown American Job Center
Wednesday, March 22. 10 a.m.-2 p.m. East County Community Center
Thursday, March 23. 3-7 p.m. Gaithersburg Library
Friday, March 24. 10 a.m.-2 p.m. Long Branch Recreation Center
Monday, March 27. 3-7 p.m., Executive Office Building (cafeteria)
Tuesday, March 28. 11 a.m.-3 p.m. Kensington Park Library
Wednesday, March 29. 10 a.m.- 2 p.m. Long Branch Recreation Center
Saturday, April 1. 11 a.m.- 3 p.m. Aspen Hill Library
Tuesday, April 4. 11 a.m.-3 p.m. Germantown American Job Center
Wednesday, April 5. 10 a.m.- 2 p.m. Long Branch Recreation Center
Friday, April 7. 11 a.m.-3 p.m. Wheaton American Job Center
Monday, April 10. 4-8 p.m. Germantown Community Center
Tuesday, April 11. 3-7 p.m. Long Branch Library
Friday, April 14. 10 a.m.-2 p.m. White Oak Recreation Center
Saturday, April 15. 11 a.m.-3 p.m. Aspen Hill Library
Tuesday, April 18. 11 a.m.-3 p.m. Germantown American Job Center
Wednesday, April 19. 10 a.m.-2 p.m. East County Community Center
Thursday, April 20. 10 a.m.-2 p.m. Long Branch Recreation Center
Friday, April 21. 11 a.m.-3 p.m. Wheaton American Job Center
Tuesday, April 25. 3-7 p.m. Long Branch Library
Wednesday, April 26. 10 a.m.-2 p.m. White Oak Recreation Center
Friday, April 28. 11 a.m.-3 p.m. Wheaton American Job Center
Saturday, April 29. 11 a.m.-3 p.m. Executive Office Building (cafeteria)