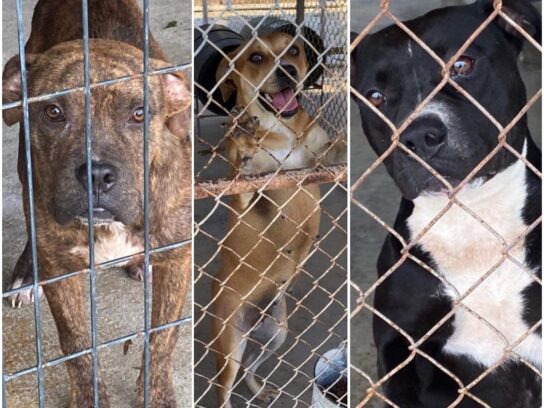 Montgomery County Animal Services and Adoption Center (MCASAC) in Derwood is rescuing 16 dogs affected by Hurricane Laura.
The dogs will arrive Thursday in Montgomery County from Morehouse Humane Society Shelter in Bastrop, La. Morehouse Humane Society Shelter was connected to MCASAC through its involvement as a Best Friends Network Partner, meaning it can act as a resource for other shelters when disasters strike.
According to MCASAC, Morehouse Humane Society Shelter was hit hard by Hurricane Laura. The Category 4 storm has caused roof damage to the shelter and many of its windows are broken. Moreover, the shelter has been without power since Aug. 27 and it's also been impacted by a heat advisory. So although there were generators and fans operating at the shelter, the dogs were in desperate need of a safe place.
MCASAC agreed to take 16 dogs, which clears Morehouse Human Society Shelter and provides an opportunity for it to undergo necessary repairs.
Maria Anselmo, a spokesperson for MCASAC, says the dogs will need time to settle before they are made available for adoption. When the dogs arrive at MCASAC, they will each be medically and behaviorally examined and treated accordingly. Anselmo said in an email to MyMCMedia that some of the Louisiana dogs have tested positive for heartworm and are not spayed or neutered.
MCASAC said in a news release, "Prior to adoption, all dogs are altered, microchipped, and given core vaccines."
Some dogs may be available within a week after arriving in Montgomery County.
Updated Story:
Here's our story about the dogs arriving in Montgomery County:
Dogs from Louisiana Shelter Damaged By Hurricane Laura Arrive in Montgomery County