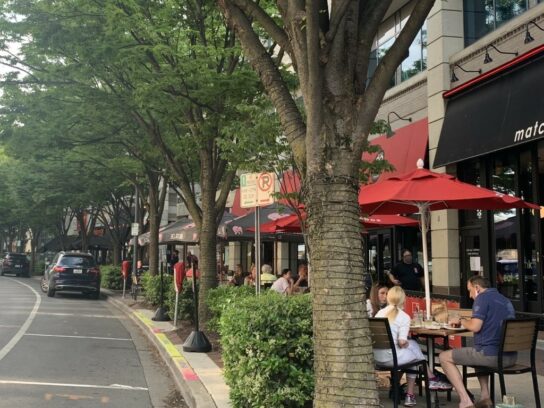 The Montgomery County Department of Transportation (MCDOT) has suspended all of the county's shared streets and streeteries due to the passing of Tropical Storm Isaias, according to an announcement made via Twitter on Monday.
As Tropical Storm Isaias passes through Montgomery County, there is a strong potential for high winds and flooding. Therefore, MCDOT has decided to close shared streets and streeteries until the storm passes. MCDOT Engineering stated in its tweet Monday that signage and barricades were being removed that afternoon.
The Bethesda Urban Partnership also took to Twitter to announce that its streetery will be closed Tuesday and Wednesday, due to "predicted storms and inclement weather."
Besides the shared streets and streeteries, there have been other significant closures within the county ahead of the tropical storm's approach. For instance, COVID-19 testing clinics have been cancelled for Tuesday and Wednesday.
Montgomery County is currently under a flash flood warning. More information can be found here.
Due to the approach of Tropical Storm Isaias and the risk of high winds and flooding, MCDOT is suspending all of our temporary shared streets and streeteries. Signage and barricades are being removed this afternoon. They will be replaced once the storm has passed.

— MCDOT Division of Transportation Engineering (@MoCo_DTE) August 3, 2020
Due to predicted storms and inclement weather, the #BethesdaStreetery is closed today (8/3) and tomorrow (8/4).

— BethesdaUP (@BethesdaUP) August 3, 2020