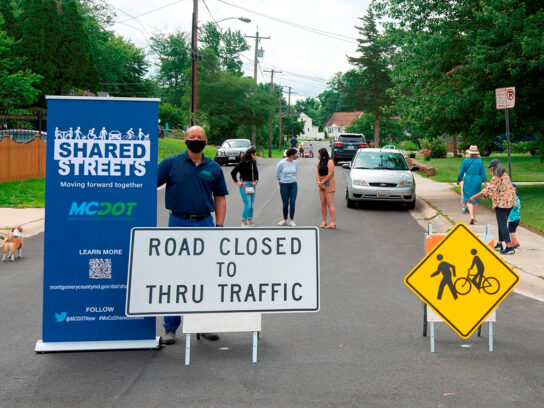 Beginning Oct. 23, two portions of Woodland Drive in Silver Spring will be adapted for Montgomery County's "Shared Streets Program."
The Shared Streets Program began in response to the COVID-19 pandemic, providing additional room for pedestrians, bicyclists, and other non-vehicular users. This program subsequently limits vehicular traffic to local traffic only, meaning residents, service providers, and delivery drivers can enter the closed streets.
The two new additions to the Shared Streets Program include:
Woodland Drive South between Spring Street and Flora Lane in Silver Spring totaling one mile. Near Downtown Silver Spring, Montgomery Hills/Seminary shopping and dining and Forest Glen Metro.
Woodland Drive North between Forest Glen Road and Amherst Avenue at Windham Lane in Silver Spring, totaling 1.1 miles. Near Wheaton shopping and dining, Windham Lane Temporary Neighborhood Greenway, General Getty Park, Evans Parkway Neighborhood Park and Forest Glen Metro.
*New*

Woodland Drive in @SilverSpringMD -'Temporary Neighborhood Greenway' begins Friday, Oct. 23, as @MCDOTNow 's #MoCoSharedStreets Program makes more local roads more friendly for pedestrians and bicyclists https://t.co/18Qz20KZPW via @Granicus @MontgomeryCoMD @reemberto pic.twitter.com/DvzvszEa8P

— mococommuter (@mococommuter) October 22, 2020
In a press release, Montgomery County says the addition of Woodland Drive "brings the total area designated as temporary neighborhood greenways to 6.4 miles of roadway."
To view a full list and maps of the Shared Streets, visit the MCDOT website.