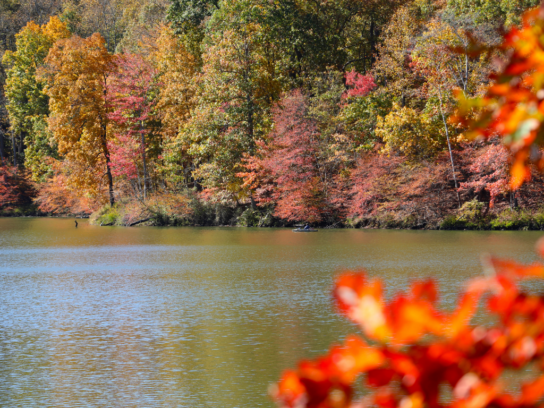 Fall foliage in Montgomery County is currently in the midpoint range, but nearing its peak, according to this week's Fall Foliage Report by the Maryland Department of Natural Resources.
"The spectrum of autumnal colors is quickly emerging in full splendor in Montgomery County," Seasonal Ranger Ryan Keller for Seneca Creek State Park reported.
Maples, hickories, birches and red oaks are starting to display bright colors.
"While the weather is becoming cooler, deciduous trees and shrubs are showing warmer tones of red, orange, yellow, purple, and brown. Although some pockets of green still remain, oaks, often the last to change, are shedding their acorns and turning colors, signaling the final fleeting stages of autumn's kaleidoscopic metamorphosis," Keller told MDNR.
The report says this season continues to bring on the best fall color Maryland has seen in years, as Washington and Frederick counties reach peak foliage.
Forester Aaron Cook in Clear Spring, Washing County, reported to MDNR that now would be the time to take a drive on country roads, or go for a hike along the Western Maryland Rail trail, or visit the South Mountain State Park complex.
"The continued calm weather and only light scattered showers and gentle breezes have allowed the best foliage in years to stay on the trees; everywhere I look in Washington County seems to be at peak color or very close," Cook told MDNR. "In Frederick County, Cunningham Falls State Park or Catoctin Mountain Park would be great destinations to take in the best color in years.  If the weather stays calm, the color should linger for a little while longer, so get out and enjoy this amazing fall color."
🍁🍂 FALL FOLIAGE REPORT: This season continues to bring on the best fall color #Maryland has seen in years, as Washington and Frederick counties reach #peak #foliage! https://t.co/wLcRsKvPC4#getoutdoors #leafpeepers #leafpeeping@WashingtonCoMD pic.twitter.com/oUI4dNwW9w

— Maryland DNR (@MarylandDNR) October 22, 2020
To help you plan a fall foliage trip outside of Maryland, this interactive tool from SmokyMountain.com uses publicly available data to predict when peak fall would happen, county by county, for the entire United States.
Now in its eighth year, the model gets more and more accurate as co-founders, David Angotti and Wes Melton, work out kinks in the system, which is based on meteorology and data, they told the Washington Post.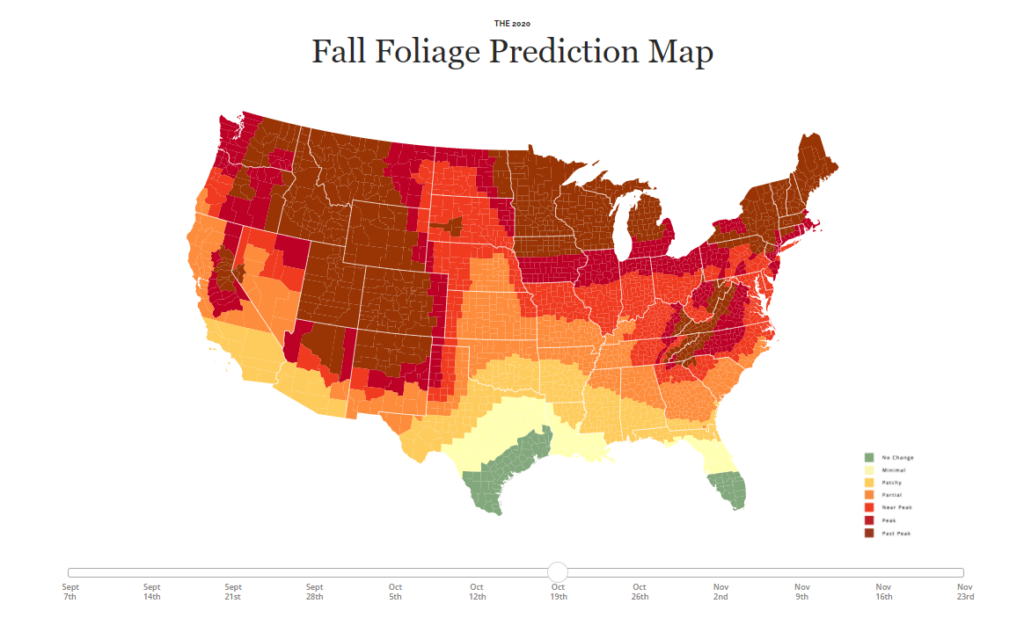 While the map can't guarantee a fall color delight at your destination, "this tool is meant to help travelers better time their trips to have the best opportunity of catching peak color each year," according to the website.