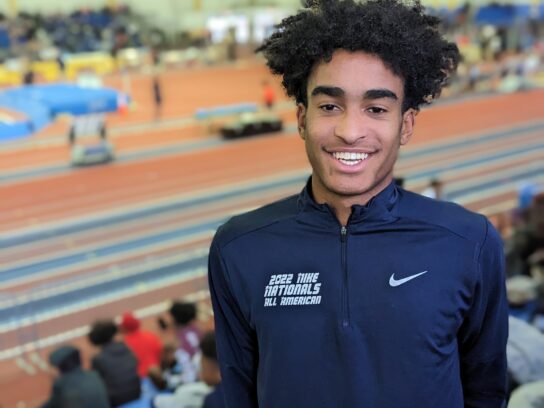 It isn't a secret why Colin Abrams performs so well in cross country races or track meets. The Magruder High School sophomore not only possesses great speed and athletic ability, he also has a strong work ethic that helps him run faster and push toward the front of the pack.
"He is extremely dedicated and has a very high athletic IQ," Magruder indoor track and field coach Sarah Wassner Flynn said. "He's smart in general and he studies a lot of professional athletes and races. He studies the best of the best and figures out how they got that way."
So far that has proven to be a winning combination.
Abrams finished 16th in the Maryland 3A Cross Country Championships this past fall. But he is best suited for middle distance running. At a smaller meet this winter, he ran the 500-meter race for the first time and set a new school record.
At this past weekend's Montgomery Invitational, with nearly 90 teams competing at the Prince George's Sports and Learning Center, Abrams broke his own school record and won the 800-meter race in 1 minute 58.82 seconds. He also teamed with Andie Kollie, Ryan Moriarty and Josh Lopez to win the sprint medley relay in school record time, qualifying for the New Balance National Track and Field Championships in Boston in March.
For his efforts, Abrams was named the Montgomery County Sports Hall of Fame High School Athlete of the Week.
Each week throughout the school year, the Montgomery County Sports Hall of Fame is partnering with Montgomery Community Media to honor an Athlete of the Week from the county's more than 40 public and private high schools.
The fall Athletes of the Week were presented with a commemorative hat and certificate at the Montgomery County Sports Hall of Fame Class of 2022 induction ceremony in December.
Abrams started making his mark in Montgomery County and Maryland as a freshman, including finishing third in the 800 and fourth in the 400 at the Maryland 3A outdoor championships. He also traveled to the Nike Outdoor Nationals last year, competing in the Emerging Elite races and finishing the 800 in the sixth-fastest time (1:52.6) ever by an American freshman.
Next month, Abrams will compete at the Millrose Games in New York City on February 11, where he will compete in the 600-meter race.
"He's the kind of athlete that he just knows how to figure things out," Wassner Flynn said. "He knows how to win and he knows how to run fast."
(Photo courtesy Sarah Wassner Flynn)