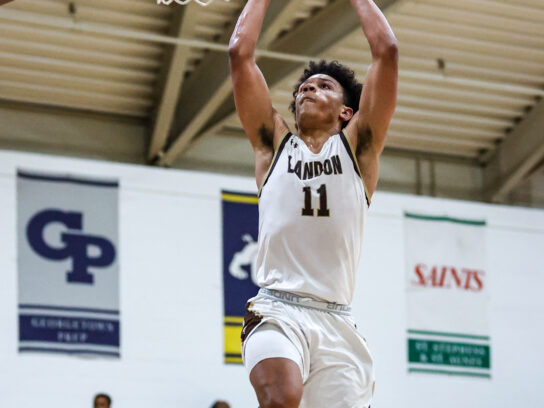 Landon School senior basketball player Tyler Perkins scored a career-high 43 points with 10 rebounds, three assists and two steals to lead the Bears to a thrilling 72-63 win over St. Stephen's/St. Agnes as the Bears celebrated Senior Night.
Four nights later, Perkins – who has accepted a basketball scholarship from the University of Pennsylvania – somehow managed to top that by scoring 47 points as Landon beat Episcopal, 76-66.
"He really took the game over against St. Stephen's and then he turned around and did even more against Episcopal," Landon Coach Hajj Malik Turner said. "It was amazing. Everybody thinks he exploded last summer, but he's been brewing for a while. If you know his story, you know how hard he works."
For his efforts, Perkins was named the Montgomery County Sports Hall of Fame High School Athlete of the Week.
Each week throughout the school year, the Montgomery County Sports Hall of Fame is partnering with Montgomery Community Media (MCM) to honor an Athlete of the Week from the county's more than 40 public and private high schools.
The fall Athletes of the Week were presented with a commemorative hat and certificate at the Montgomery County Sports Hall of Fame Class of 2022 induction ceremony in December.
Having earned first-team all-league honors last year – even more of an accomplishment given Landon's 2-8 record in the Interstate Athletic Conference, Turner noted – the 6-foot-4 Perkins certainly was on opponent's radar entering the season. But his versatility and ability to impact the game in many different ways makes it difficult for opponents to stop him, no matter how hard they try, Turner said.
Perkins is averaging 23 points and eight rebounds per game this season.
"You asked what position he plays and I was joking, but not really – he plays everything," Turner said. "He's hard to guard because he scores all different ways. Some guys score off transition or shoot threes, but he doesn't need plays run for him. He's going to get an offensive rebound and score or he will help force a steal and get a dunk in transition. I've coached against guys like that and it's frustrating because you spend the whole practice preparing for them and you might take one thing away, but he scores in so many different ways it's hard to tie him down."
(Photo courtesy Landon Athletics)