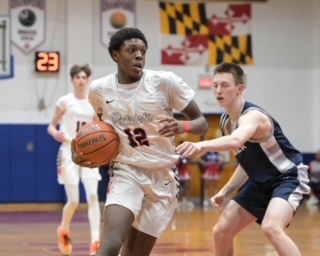 As the high school basketball season winds toward the most important games, Wootton High junior Yassine Idrissa has stepped up his game. The 6-foot-6 post player – who has a 7-2 wingspan – scored 20 points and grabbed 10 rebounds Thursday night as the Patriots avenged a 16-point regular season loss and beat Churchill, 68-63, in the Maryland 4A West Region final.
Wootton advanced to play at Meade on Saturday in a Maryland 4A quarterfinal. A victory there would put the Patriots in the state semifinals for the first time since 1985.
During Wootton's push down the stretch and into the playoffs, Idrissa has averaged 20.4 points, nine rebounds, 2.8 blocks and 2 assists over the past eight games.
For his efforts, Idrissa was named the Montgomery County Sports Hall of Fame High School Athlete of the Week.
Each week throughout the school year, the Montgomery County Sports Hall of Fame is partnering with Montgomery Community Media to honor an Athlete of the Week from the county's more than 40 public and private high schools.
The fall Athletes of the Week were presented with a commemorative hat and certificate at the Montgomery County Sports Hall of Fame Class of 2022 induction ceremony in December.
Idrissa played a lot last season as a sophomore, Wootton Coach Erick Graves said, but has taken things to another level this season, especially over the past month.
"He has really taken a leadership role on the floor," Graves said "Against Churchill, he really set the tone for us inside and he's got a pretty good outside touch. He elevates and with his length, that really is starting to get interest from the next level. He's been doing a great job offensively and on defense he is just so active."
(Photo courtesy Tim Ho)