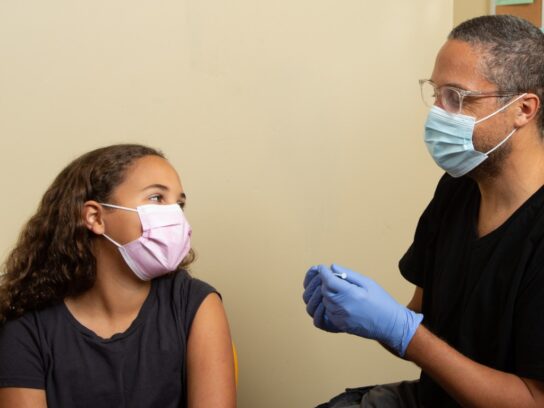 After Pfizer's COVID-19 vaccine was FDA-approved for youths ages 12-15 on Monday, Montgomery County leaders are preparing to administer shots to young residents.
The eligibility expansion still requires final approval from a CDC advisory committee, which is set to meet Wednesday. During a county council meeting Tuesday, County Health Officer Dr. Travis Gayles said leaders are planning for the approval.
"We are planning for that eligibility to be increased and go into effect on Thursday," he said. Gayles said parents and guardians can now preregister their children in that age group on the county's website. According to the county, once the Pfizer vaccine receives final approval from the CDC committee, then those youths will be contacted to make an appointment.
"We expect to be vaccinating this age group within the next several days," the county's online vaccine portal says.
Gayles said guidance so far says a guardian must be present with the child for the vaccine, in order to attest their age and to sign for consent on-site. Assuming the eligibility expansion is approved Wednesday, these young residents will be able to access any county and state site that offers Pfizer doses beginning Thursday, he said.
"And based upon our allocations from the state over the last six weeks, we have been receiving almost exclusively Pfizer doses," he said.
Gayles recognized some adults may have challenges taking time off during the day to take their children to get vaccinated. He said while not finalized, the county is working to set up youth-specific vaccine clinics in the evenings and weekends.
A CDC committee is meeting tomorrow to give the final go-ahead. @mymcmedia

— Maryam Shahzad (@maryam_mcm) May 11, 2021