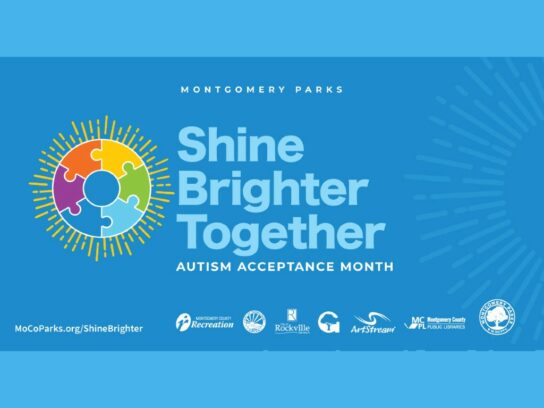 Montgomery Parks is celebrating Autism Awareness and Acceptance Month throughout April with engaging programs, activities and mini-events with the focus of "sharing positive, respectful and accurate information about autism while informing the community about the variety of resources available in Montgomery County."
"It is so important to provide inclusive parks and programming to welcome individuals of all abilities," said Jennine Blakely, Montgomery Parks' Inclusion and Community Outreach Specialist.
Montgomery Parks' "Shine Brighter Together" celebration will be hosted in coordination with agencies across the county including Montgomery County Department of Recreation, City of Takoma Park Recreation, City of Rockville Recreation and Parks, City of Gaithersburg Parks, Recreation and Culture, ArtStream, and Montgomery County Public Libraries.
The agencies have organized a number of fun and educational activities that allow all residents to get involved in celebrating Autism Awareness Month.
Casey's Community Center in Gaithersburg has selected "The Girl Who Thought in Pictures" by Julia Finley Mosca as April's "Tasty Book Kit," as part of their Casey's Tasty Books program. The book follows the inspirational true story of American scientist Dr. Temple Grandin who was diagnosed with autism as a child and became a powerful voice in modern science.
On April 11, Montgomery Parks will host "Creative by Nature," a hands-on program designated for children with disabilities. Participants will start with a self-guided nature walk and work with a naturalist to create art that engages the senses, such as watercolor leaves, mirror nature painting or nature impressions in clay. The event will take place from 11 a.m. to 12 p.m. at the Black Hill Nature Center.
Montgomery Parks will also be holding "Sensory Sundays" on April 18 and April 25 at the Agricultural History Farm Park where youth and their families will have the opportunity to meet the farm's animals and enjoy a hands-on learning experience with outdoor exhibits and tactile crafts.
The full schedule and details of April's events can be found on the Montgomery Parks website.
Montgomery Parks offers two programs for Autism Acceptance Month so we can Shine Brighter Together in Montgomery County:

*Creative by Nature, April 11, Black Hill Visitor Center
*Sensory Sunday, April 18 and 25, Agricultural History Farm Park

Register: https://t.co/akSFFsKcFM. pic.twitter.com/AwQo0I0jbe

— Montgomery Parks (@MontgomeryParks) April 3, 2021