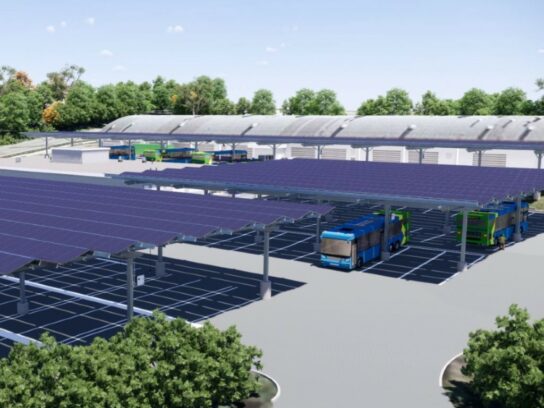 The atmosphere will be electric on Thursday, Sept. 9 when Montgomery County breaks ground on a first-of-its-kind electric bus depot in Silver Spring. It is all part of making Montgomery County greener and bringing the county closer to the plan of net-zero emissions by the year 2035.
The project was previously announced in May 2021 as a private-public partnership between AlphaStruxure, a joint venture of Schneider Electric, and the Carlyle Global Infrastructure Opportunity Fund, and Montgomery County. The project is designed, built, financed, owned, and operated by AlphaStruxure, with no upfront cost to the county and its residents.
According to AlphaStruxure, the final product will include a bus depot with charging for electric vehicles and floating solar panels. It is also estimated that the project will also transition at least 44 previous busses from diesel to electric power. The electric buses powered by the new microgrid are expected to reduce carbon emissions by 62 percent, with a lifetime greenhouse gas benefit of over 155,000 tons.
The plans will also make Montgomery County more durable against climate events and power outages, long-term outages caused by severe weather. Construction on the project is scheduled to be finished in the late spring of 2022 with the new buses on the road by 2023.