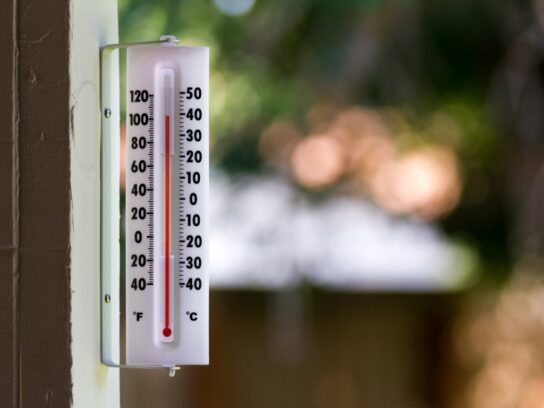 Montgomery County is under a Hyperthermia Alert until 7 p.m. Tuesday.
County Emergency Management issues the alert when temperatures/heat index is forecast to be at least 95 degrees. These conditions are hazardous and the county says heat stroke and exhaustion are likely.
See hot weather safety tips from the county and learn signs of heat exposure here. Drink plenty of water, avoid caffeinated or alcoholic drinks, and wear proper protection like light-colored clothing and sunscreen if you must be exposed to the sun.
Fire and Rescue Chief Spokesperson Pete Piringer once again challenges residents to drink one gallon of water throughout the day.
Keep an eye on those at high-risk of heat-related illness, like infants/children up to four years old and people ages 65 and older. The county encourages residents to check on elderly relatives and neighbors who may be isolated. Do not leave young children, elderly individuals or pets in a vehicle for any amount of time.
People can visit places with air conditioning like libraries, community and recreation centers and shopping malls to help beat the heat.
If residents are concerned about an individual who is homeless, they can call 240-907-2688, which is a 24/7 line. The county says outreach partners will try to find them and offer help; this is not an emergency line.
Hot & humid TODAY – Keep your cool! It's going to be a pre-hydrate, hydrate and re-hydrate type of week. Anyone up for the water challenge? #hydrate #heatwave #SaturdayMotivation pic.twitter.com/ZcECp55cfZ

— Pete Piringer (@mcfrsPIO) August 10, 2021
Montgomery County has activated the Extreme Heat Plan for a Hyperthermia Alert for Tues 8/10 from 12pm until 7pm. Expect the heat index to be above 95 degrees. Stay hydrated. Take precautions to protect yourself & pets from heat-related illnesses: https://t.co/uzbT7vM8c0 #MoCo pic.twitter.com/PaOEqJFQa6

— MC Emergency Mgmt (@ReadyMontgomery) August 9, 2021
Things to keep in mind this week! #BeatTheHeat https://t.co/MLtLuvwHTb
◾️ Avoid strenuous outdoor activities ☀️
◾️ Visit places with air conditioning for relief from heat 🌡️
◾️ Check yourself, family members and neighbors for signs of heat-related illness 👨‍👩‍👧 pic.twitter.com/MZLmvITlJf

— Montgomery County MD (@MontgomeryCoMD) August 9, 2021