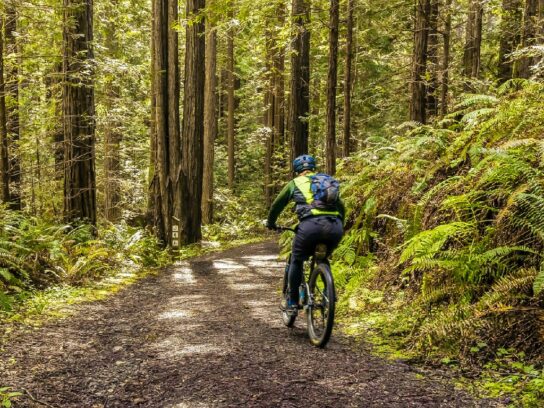 May is National Bike Month. In celebration, Montgomery Parks announced their top picks for the best locations for bike riding across the county.
Every Friday at 9 a.m. to Sunday at 6 p.m., a section of Beach Drive, from Connecticut Avenue to Knowles Avenue, and sections of Sligo Creek Parkway, from University Boulevard West to Forest Glen Road and Piney Branch Road to Old Carroll Avenue, are closed to motor vehicles and open for bicyclists. From Arlington Road to River Road, Little Falls Parkway is also open for bicyclists starting on Saturdays at 7 a.m. until Sundays at 6 p.m.
According to Montgomery Parks, the Cabin John Regional Park Trails in Bethesda contains slightly over three easy miles of natural and hard surface trails paralleling Cabin John Creek. Visitors can find about nine miles more of natural surface trails by continuing onto the Cabin John Stream Valley Park trails.
Rock Creek Hiker-Biker Trail offers about 18 miles of hard surface trail extending from the north border of Washington D.C. to Lake Needwood in Derwood. Montgomery Parks advises that the trail contains some scattered hilly parts but is good for all skill levels and makes for a good day trip.
The Magruder Branch Stream Valley Park trails near Damascus contains four miles of hard surface trail offering a mostly flat ride with some steep grades. The trail offers views of upland forests and opportunities for bird-watching, according to Montgomery Parks. The Park also offers a natural surface trail that extends three miles, traveling through wetlands, fields and woodlands.
Northwest Branch Stream Valley Park contains an asphalt trail on the west side of the stream for bicyclists. Copperhead Run, the park's newest trail, is a favorite for mountain bicyclists which travels south, paralleling Northwest Branch Trail.