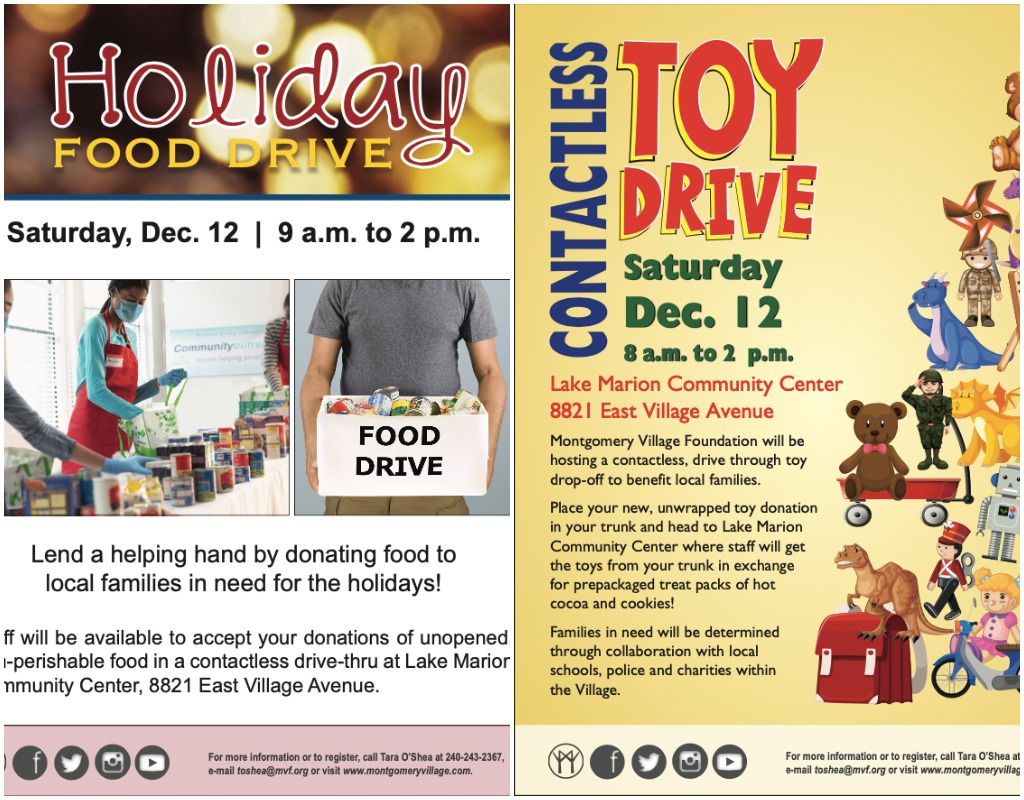 Montgomery Village To Host Contactless Food and Toy Drive on Dec. 12
Following a successful Thanksgiving food drive, the Montgomery Village Foundation will host a Food and Toy Drive on Dec. 12. The drive will support local families in need for the upcoming Christmas holiday.
Both will take place at the Lake Marion Community Center, at 8821 East Village Avenue. The toy drive will start at 8 a.m. and last until 2 p.m. The food drive will start an hour later at 9 a.m., but also finishes at 2 p.m.
Due to restrictions from Covid-19, the entire event will remain contactless. Items for the food drive must be unopened and non-perishable, while toys should remain unwrapped. Residents are asked to leave any items for donation in their trunks for the contactless drop-off.
For more information, call Tara O'Shea at 240-243-2361, e-mail toshea@mvf.org or visit www.montgomeryvillage.com.
Our Thanksgiving Food Drive was such a success, we're doing it again for the holidays! On Saturday, Dec. 12, bring non-perishable items to Lake Marion Community Center 8821 East Village Ave., along with a toy donation for local families in need! pic.twitter.com/qKYx6bjuzU

— Montgomery Village (@MontVillageMD) December 2, 2020