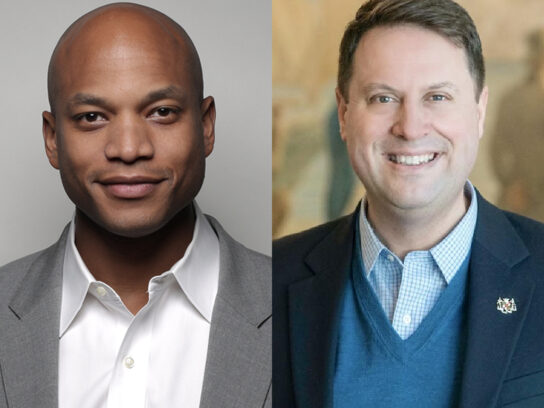 Maryland's gubernatorial candidates faced off in the first and only televised debate Wednesday.
With less than a month until midterm elections, Democrat Wes Moore and Republican Dan Cox expressed their sharp contrasts on key election issues.
The hour-long debate began with a question from a panelist asking if the candidates would honor and accept the election results in November.
Cox said he has always accepted election results that are fair and that follow the Constitution. "Every single candidate on the ballot has a right to that process and I intend to uphold that process."
Moore responded by citing a tweet where Cox said he would bus people to the Jan. 6 rally and protest the 2020 presidential election results. Moore then added that he would honor the election results and hoped Cox would too.
Candidates also addressed how they would close the racial wealth gap and if reparations would play a role in their plan.
"The only thing we need to talk about with reparations is making sure that the people who were robbed of their business and their wealth in the last two years, with an authority that my opponent supports, and that is a locked down authority," Cox said. "We need to make sure that we're back in the position to prosper once again. That's my platform and plan."
Moore argued that the impact of racial disparities did not start two years ago. He noted his administration would focus on creating pathways for work, wages and wealth. He further added, "We've got to move into a direction where we're taking meaningful action and reparative action, to be able to address the economic gaps that we continue to see in our society."
While access to abortion is currently protected under Maryland law, it is not under national law. When asked about their position, Cox said he will defend unborn life and will not take into his power something that is not constitutional.
"I believe abortion is healthcare," Moore said in a contrasting response and added that he trusts women to make this decision with their doctors, and not with politicians and judges.
As Gov. Larry Hogan's eight-year tenure comes to an end, candidates were asked to grade his leadership.
Moore said he would give Hogan an incomplete since his term as governor has not ended yet.
Cox expressed he would give Hogan an A, except on the differences they had when handling COVID.
In light of Tuesday being National Coming Out Day, a panelist asked both candidates if they believed LGBTQ+ children are adequately supported in public schools.
"No, we are not doing enough because too many times we exclude the parents from involvement," Cox responded, noting that he fought against a bill that would allow 12-year-olds to receive counseling without their parents.
Further saying that he would ensure the transgender indoctrination stops in kindergarten. "I will stand against that and eradicate that from the curriculum and get back to world-class learning," Cox said.
Moore emphasized that while the state should be a partner, it does not dictate the educational processes for local jurisdictions. "I want to say to all our LGBTQ youth and families, I see you and I hear you, and all policies that will be made in partnership, because that is how we have to lead as a state."
In closing statements, Cox said he would be the only balance possible because a one-party rule is not the future of Maryland. "I will make sure that we have freedom once again, where you choose your healthcare with your doctor, and education must be world-class."
"My life could have gone a very different way after my dad died. I could have been left behind," Moore said. He then pledged to build an economy that lifts everyone up. "I've spent my entire career bringing people together to make our country, our state and our communities better. And that is what real patriotism looks like."
Watch the entire debate below: