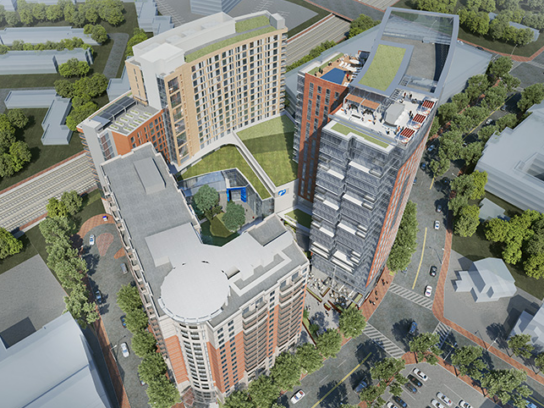 Officials with the Housing Opportunities Commission of Montgomery County say there's more development to come, and it will offer affordable housing and more resources for the local community.
The new Elizabeth Square located on Fenwick Lane in Silver Spring will include the newly renovated Alexander House and future South County Regional Recreation and Aquatic Center.
Elizabeth Square will be comprised of three residential buildings: Alexander House, Elizabeth House III , and Elizabeth House IV in addition to the SCRRAC which will form the base of Elizabeth House III and IV.
A ribbon cutting ceremony for Alexander house, and groundbreaking on Elizabeth House III was held on Monday.
HOC and partner Lee Development Group (LDG) are undertaking the development of Elizabeth Square located in the heart of downtown Silver Spring. The $200 million project will convert two of HOC's high-rise apartments and a LDG-owned office park into 887 residential units, 6,000 square feet of retail space and a community and recreation space. The entire development will add 436 residential units to the area.
Officials say Elizabeth Square will change how HOC connects customers to high-quality, amenity-rich housing while appealing to market rate renters. The project is a multi-phase redevelopment beginning with the demolition of Fenwick Professional Park and renovation of HOC's Alexander House high-rise. Construction will then turn to the new 267 unit Elizabeth House III. Upon completion of this phase, builders will create an additional 315 units at 23-story Elizabeth House IV.
The public aquatic and recreation center will include an eight-lane lap pool, multi-purpose therapy pool, spa, fitness area, basketball court, locker rooms and supportive spaces. Elizabeth House III will also house an educational kitchen operated by Montgomery County's Recreation Department, a Holy Cross Hospital-affiliated wellness center and an extension of the Capital Crescent Trail.
Here's more information on each building: 
Elizabeth Square
http://www.kgdarchitecture.com/elizabeth-square/
Alexander House
http://www.kgdarchitecture.com/alexander-house/
South County Regional Recreation and Aquatic Center
https://www.montgomerycountymd.gov/DGS-BDC/SS/721701.html