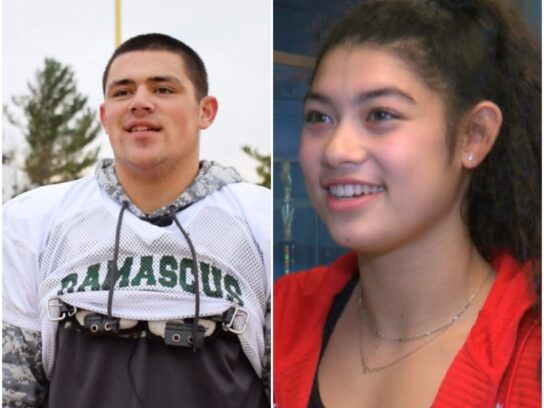 Many great athletic achievements by teams and individuals in Montgomery County were on display in 2019. Quince Orchard, led by record-breaking running back Marquez Cooper, was undefeated until losing to rival Northwest in the state semifinals. Good Counsel won the WCAC football championship. Walter Johnson made the playoffs in football for the first time in school history. Skiier Meagan Olsen from Walt Whitman High School is internationally ranked. Wheaton High tennis player Ayana Akli won the county, regional and state titles for the third straight year. And that's just to name a few.
MyMCMedia wanted to pick two athletes that stood above the rest and while it was very difficult, it also kind of wasn't thanks to two very talented high schoolers.
Kayla DiCello, Gymnastics, Northwest High School
Kayla DiCello is only 15 but the Northwest High School sophomore has already built a very impressive resume.
Over the summer, she made a splash at the U.S. National Gymnastics Championships winning three gold medals. In November, the Montgomery County Council honored her for her accomplishments. Next July – if all goes well – DiCello could be representing the United States in Tokyo for the 2020 Olympic Games but right now she is focusing on her studies, working hard at her craft and trying to not look too far ahead.
Kayla DiCello, the Northwest High School sophomore who is also the U.S. Junior Women's Gymnastics champ, was acknowledged by the Montgomery County Council.
"This is a young lady who has truly dedicated herself to her sport," Councilmember Craig Rice said. Introduced to gymnastics at 2, she was added to the Junior National Team in 2018.
Rice noted that Kayla competed at the junior level in U.S. National Championship in August. Her combined score at the junior level would have placed third on the senior level. Only four-time Olympic gold medal winner Simone Biles, the eventual championship winner, and Sunisa Lee had better scores.
"Even at the senior level she would have been in third place. This girl is talented. She's a young lady who's headed places. I promise you'll see her on a podium very, very soon," Rice said.
DiCello has already committed to attend the University of Florida in 2022.
MyMCMedia caught up with DiCello before the holiday break.
Bryan Bresee, Football, Damascus High School
It is not difficult to pick Bryan Bresee out of a crowd. The 6'5′, 290 pound defensive lineman from Damascus High School was as dominant a football player as Montgomery County has seen for a long time, leading the Hornets to their 3rd state title in the last four years.
Bresee manhandled many of his opponents with his size, strength, smarts and quickness. He developed a reputation as a great leader and teammate. He wanted to do anything to help his team win so he also played offensive left tackle and even got to run the ball a few times during the playoffs on key plays where Damascus had to get some tough yards. Bresee swept any and all individual awards and honors including the Washington Post All-Met Defensive Player of the Year.
How good is Bresee? Many of the top football rating services graded him as the nation's top player – at any position. Bresee will be taking his talents to Clemson University in 2020, a program that has won two of the last three national championships.
MyMCMedia talked to Bresee (before Damascus won the Maryland state 3A title) when he was named to play in the All-American High School game which will be played in San Antonio in January.