Seeing a frenzy of pink flowers along the Tidal Basin in the nation's capital will no longer be just a virtual, 2D experience. Organizers for the National Cherry Blossom Festival announced Tuesday that next year's festival will be in-person.
"DC is open and that means that the National Cherry Blossom Festival is back in person," said Washington D.C. Mayor Muriel Bowser in a statement. "In neighborhoods across DC, the cherry blossoms have been a bright spot during the past two years – a beautiful reminder of hope and renewal. Now, we can't wait to welcome visitors back to Washington, DC to experience the full in-person 2022 National Cherry Blossom Festival and all that DC has to offer."
The festival is expected to run from March 20 through April 17 and will feature a pink tie party, blossom kite festival, parade, live music and fireworks. For those that can't make it in person, the official website has various webcams available to see the cherry blossom's blooming in real-time.
The festival organizers also unveiled the official artwork for the 2022 festival created by Falls Church, Virginia native Lea Craigie-Marshall.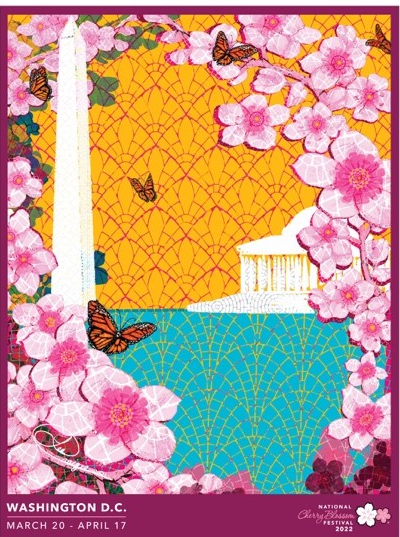 Courtesy National Cherry Blossom Festival
"Blossom Dance" depicts the National Monument, the Lincoln Memorial and the Tidal Basin surrounded by orange monarch butterflies and pink cherry blossoms.
"Both the blossoms and the [monarch butterflies] are precious and fleeting, and it's important to protect them both for future generations to enjoy," Craigie-Marshall said in a statement. "I wanted to include the Washington Monument and the Jefferson Memorial as well, two of my favorites and really an iconic part of the Festival."
A few minutes ago, the 2022 Official Art "Blossom Dance" was unveiled! The Official Artist, @BlueHueLea was inspired by her love and respect for the environment by showcasing monarch butterflies amongst a plethora of blooms 🌸#OfficialArtist #OfficialArt #CherryBlossFestLaunch pic.twitter.com/0YWYqln0vp

— National Cherry Blossom Festival 🌸 (@CherryBlossFest) November 9, 2021