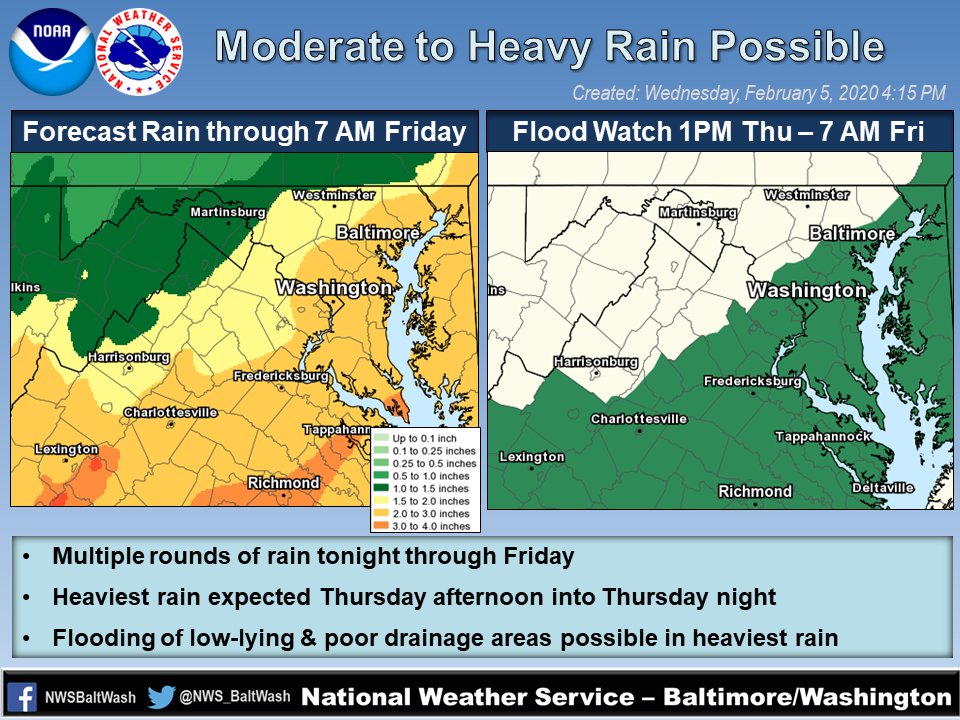 National Weather Service Issues Flood Watch for Thursday
An areal flood watch has been issued by the National Weather Service for Montgomery County from Thursday afternoon through Friday morning.
Multiple rounds of rainfall will occur through early Friday. The heaviest rainfall is expected to begin Thursday around 1:00 p.m. and continue into Thursday night. Two to three inches of rainfall is expected through Friday morning.
Officials with NWS say residents should be aware as some smaller streams and rivers may exceed their banks and cause flooding.
A Flood Watch has been issued for parts of the area Thursday afternoon through early Friday morning. Multiple rounds of rainfall may eventually lead to some flooding. pic.twitter.com/nriwgRq0Q5

— NWS DC/Baltimore (@NWS_BaltWash) February 5, 2020
The National Weather Service has issued a Flood Watch for a portion of Montgomery County beginning tomorrow, February 6 at 1:00 PM. Expect heavy rainfall that may produce flooding to begin within the next 24 hours. Info: https://t.co/PXxfIaiIDH #MdWx #MoCo pic.twitter.com/uH15RXP7MW

— MC Emergency Mgmt (@ReadyMontgomery) February 5, 2020