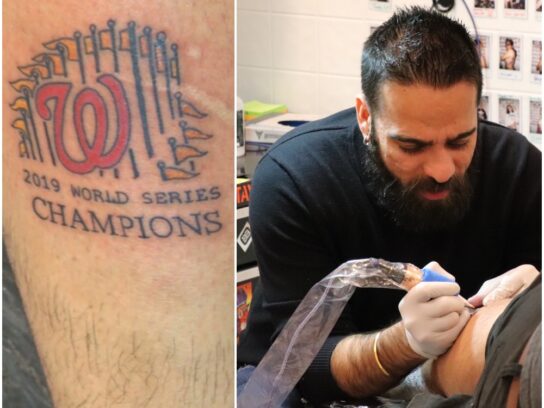 Two weeks after an iconic World Series Championship victory, some Nats fans are celebrating by getting Washington Nationals tattoos.
Once the Nats officially finished the fight, tattoo artist Tarun Kumar "TK" Rajkumar announced on his Instagram that he was offering clients discounted ink at Capitol Tattoos in Silver Spring.
Luis Majano of Hyattsville is one of the people to take up Rajkumar's offer. Majona, who's been a Nats fan since the beginning, had Rajkumar give him a tattoo on the back of his calf of the Nats' curly W, with the World Series Trophy. Under the W reads "2019 World Series Champions."
Rajkumar was born in India and studied in Thailand to become a tattoo artist. He moved to Bethesda six years ago and wasn't familiar with the game of baseball. However, after watching people in the Washington, D.C., area come together to cheer on the Nationals, Rajkumar was reminded of the excitement he felt when he would watch cricket in India.
https://www.instagram.com/p/B40iqkEheJI/
In India, Rajkumar said he would give out tattoos to fans to celebrate their favorite cricket team winning a tournament, which inspired him to do the same for Nationals fans.
"I love putting a mark on someone's body, it's something like a passion I cannot even describe," Rajkumar said.
After giving out several tattoos to clients, Rajkumar said he's learned more about baseball and he definitely considers himself a Nats fan.