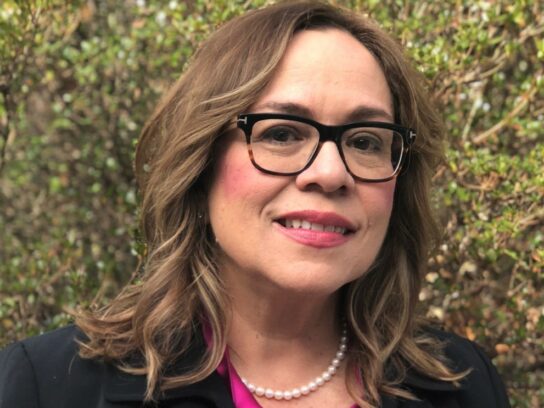 During the March 2 Montgomery County virtual council meeting, voices can be heard in the background that appear to make fun of Councilmember Nancy Navarro's accent. One person seems to giggle as another person says, "I love how her accent comes out," specifically referring to Navarro's pronunciation of the words "represents" and "hologram."
It is difficult to make out the exact conversation, which Navarro described as taking place between a member of the council's IT team and a Zoom operator who the county contracted with at Montgomery Community Media (MCM).
In response, Navarro sent a letter to her fellow councilmembers, stating, "I am bringing to your attention one of the many racist micro-aggressions that community members and leaders of color stumble upon in our daily lives." She called for an investigation of the incident.
Navarro also wrote that the fact that this occurred during a council session concerning inequities with the vaccine roll and other health issues "only adds insult to injury."
"This sort of commentary is completely inappropriate and uncalled for. It is a loud commentary on the toxicity and culture of disrespect directed at leaders and community members of color," Navarro wrote in her letter to council and MCM.
She noted she is proud to be the "first ever Latina immigrant to hold office in the council, it is a badge of honor to carry and lift all the different voices of our community, and I will continue to do so for the remaining time of my term and beyond."
Responding on behalf of MCM, CEO Nannette Hobson stressed that leaders of color should not have had to suffer incidents like these. "As a nonprofit leader, an African American and a woman, I take very seriously the type of microaggression displayed by the exchange during the hearing yesterday. Participants in conversations like these intend to make the subject of the comments appear to be less than, while normalizing the behaviors of bigotry. Let me be clear, MCM does not condone nor tolerate such behavior by our employees. Appropriate measures have been and will be taken."
She called the behavior of the male MCM trainee "completely unacceptable and not reflective of our culture."
Listen here, beginning at the one minute and eight second mark, to hear the remarks: