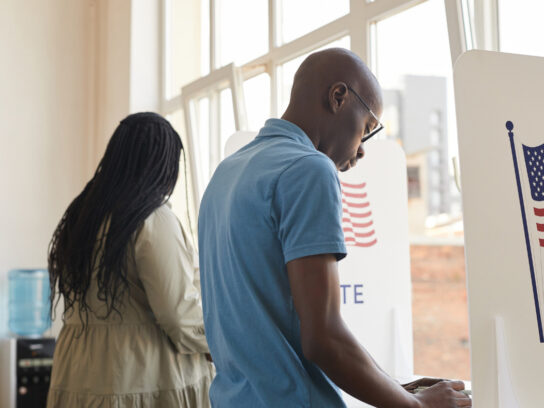 More than 58,000 Montgomery County residents voted early in the upcoming election.
According to an unofficial count from the Montgomery County Board of Elections (BOE), 58,593 people voted over the eight-day period from Oct. 27 to Nov. 3. The last day saw the highest turnout with 14,926 voters. 
Nearly 393,000 people early voted throughout the state, per a tally from the State Board of Elections (SBE). 392,754 Marylanders cast ballots at early voting centers.
Election Day is Tuesday, Nov. 8. Unlike during early voting, residents must go to their assigned polling place on Election Day. Find out where to vote here.
🚨 UNOFFICIAL EARLY VOTING CHECK-IN TOTALS/TOTALES NO OFICIALES DE REGISTRO DE VOTACIÓN ANTICIPADA 🗳

Montgomery County
DAY/DÍA 1: 5,565
DAY/DÍA 2: 6,482
DAY/DÍA 3: 4,169
DAY/DÍA 4: 4,302
DAY/DÍA 5: 6,165
DAY/DÍA 6: 7,582
DAY/DÍA 7: 9,402
DAY/DÍA 8: 14,926
Total: 58,593 🇺🇸 pic.twitter.com/n4MPb3t9gj

— MontgomeryMDVotes (@777Vote) November 4, 2022
Thanks, early voters! A recap:
Day 1-Thu 10/27 = 44,920
Day 2-Fri 10/28 = 46,553
Day 3-Sat 10/29 = 27,342
Day 4-Sun 10/30 = 26,393
Day 5-Mon 10/31 = 45,054 🎃
Day 6-Tue 11/1 = 51,051
Day 7-Wed 11/2 = 60,664
Day 8-Thu 11/3 = 90,777
GRAND TOTAL = 392,754#MDvotes #UnofficialStats pic.twitter.com/WayHRfA1y1

— Maryland Elections (@md_sbe) November 4, 2022