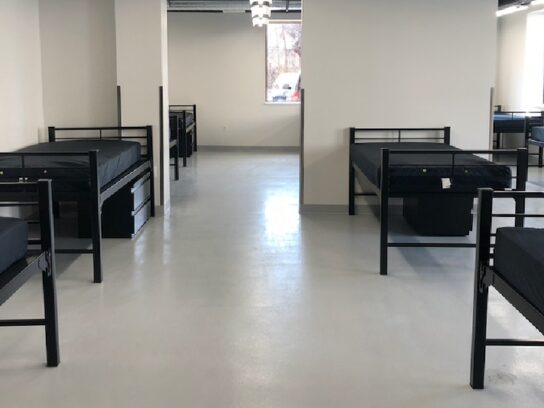 The new Nebel Street Shelter in Rockville opens Monday. 
It is a permanent facility that will provide temporary shelter for up to 200 men experiencing homelessness. It could potentially house up to 290 individuals if necessary, Montgomery County Executive Marc Elrich said during a ribbon-cutting ceremony at the facility on Saturday. The two-story shelter will operate year-round.
"We are transitioning from a community that said it's okay to sleep outside to a community that says it is not okay to sleep outside," Elrich said. He said he has thoughts about a second building to be able to help as many people as possible. 
Bedrooms are divided into pods of six individual beds, with each bed six feet apart. Pods can be isolated from the general public, a measure in response to the COVID-19 pandemic, said Susie Sinclair-Smith, CEO of the Montgomery County Coalition for the Homeless (MCCH). MCCH operates the shelter program. 
Every bed has a two-drawer dresser and electrical outlet.
On Monday, individuals from other county men's temporary shelters will begin phasing into the Nebel Street Shelter one facility at a time, Sinclair-Smith said. The shelter will provide services like on-site psychiatric and related healthcare, medical exams, an employment lab, housing location services and a meal program that provides three meals everyday to clients year-round.
"When I experienced homelessness, it was one of the most darkest times of my life," said Terence Hill, Commissioner for the Montgomery County Interagency Commission on Homelessness.
"When I came to the men's shelter several years ago, I was devastated, I couldn't see any light at the end of the tunnel," he said. Hill said the shelter and the support of the housing program gave his life back to him. 
"It gave me something more important, which is hope." Hill received mental treatment for the first time, and was able to start recovering from substance abuse and eventually became clean. 
"I can honestly say without the shelter and all the people and services and donors and resources, you know what, I probably would be dead right now. And that's no joke."
Ribbon-cutting for the new Nebel Street Shelter. @mymcmedia pic.twitter.com/jwIcEVpXyp

— Maryam Shahzad (@maryam_mcm) March 5, 2022