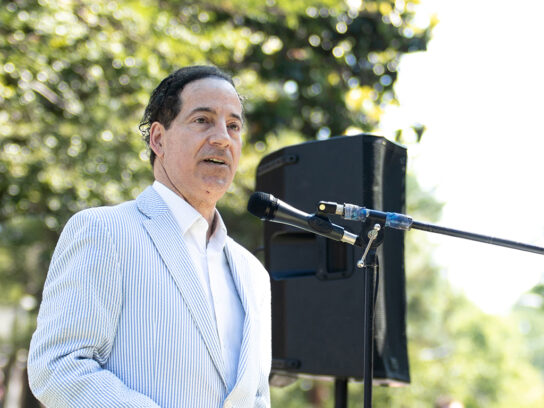 Beginning July 1, people experiencing mental health issues can opt into a friendly call-in program to receive regular wellness calls or texts under a new Maryland law named in memory of the the son of U.S. Rep. Jamie Raskin, who died from suicide.
The Thomas Bloom Raskin Act, which was signed into law April 13 by Gov. Larry Hogan, directs the Maryland Department of Health to establish an opt-in mental health services phone call program, which will be done through the state's already existing 2-1-1 Maryland program. Those in the program will be called on a regular basis by a caring person, who will offer comfort and recommend services.
If someone in the program doesn't answer, 2-1-1 employees will contact the participant's support person to make sure everything is okay, explained Quinton Askew, president and CEO of 2-1-1 Maryland. "We'll be a listening ear to identify what we can do" to help, he said.
"I know countless lives will be saved because of this law that now bears your son's name," Hogan told Raskin as they stood in front of the Maryland State House in Annapolis Monday morning. He thanked Raskin  "for your willingness to channel your own grief in order to help address the mental health crises in Maryland and across America."
Hogan added, "No one should ever feel like they must suffer in silence."
Tommy Raskin, who grew up in Takoma Park, lost his life to depression on Dec. 31, 2020 at the age of 25. He was a graduate of Amherst College and was attending Harvard Law School at the time of his death. He was a poet, an enthusiastic Boggle player, a vegan and a political person who cared all people and animals.
"It's definitely been a tough time for young people," Raskin said of this pandemic year. Too many people have been greatly affected by the isolation and the loss of income, he said. "We don't want to lose one more person to the trauma of suicide."
State Del. Bonnie Cullison of District 19, who was instrumental in getting the bill passed along with Maryland Senators Craig Zucker of District 14 and Malcolm Augustine of District 47, noted, "As a community we were devastated" to learn of Raskin's son's death.
2-1-1 Maryland has seen the number of calls from people in crisis increase by 700% since 2013, according to Cullison, who hoped the new program will reach people before they are ever in crisis.
Proud to be joining Rep. Jamie Raskin for an event regarding the Thomas Bloom Raskin Act.

Watch live: https://t.co/VyIF3lccKT

— Governor Larry Hogan (@GovLarryHogan) June 21, 2021
Today's press conference promoting the importance of people utilizing the Tommy Raskin Act. This law I sponsored will help thousands of Marylanders and save lives. https://t.co/RL0J3Hu2wA pic.twitter.com/AbdjPXqZ8R

— Craig Zucker (@SenatorZucker) June 21, 2021