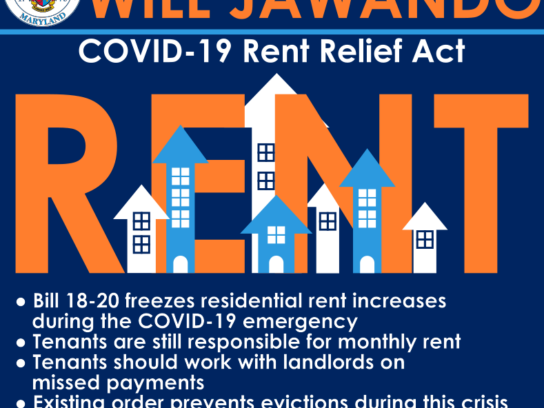 A sense of relief for renters in Montgomery County in the midst of this catastrophic health emergency. A newly introduced bill would prevent landlords from increasing rent during the COIVD-19 pandemic.
Montgomery County Councilmember Will Jawando discussed expedited Bill 18-20, the COVID-19 Renter Relief Act on Tuesday during a virtual media briefing.This new legislation would prohibit the increase of residential and commercial rents during, and within a certain time period after the declared state of emergency.
"One in ten Americans is out of work right now. We need federal action to help many people to be able to pay their current rents, let alone an increased rent," said Councilmember Jawando. "We also know our renting population tends to include our lower-income population. My office has received reports of substantial increases in rent and significant late fees being added in some properties. We need to ensure that vulnerable residents, many of whom are already dealing with heightened anxiety and heightened risk of infection, do not also have to worry about large, unanticipated rent increases and about whether they can afford to stay in their dwelling places during this crisis."
MyMCMedia talked to Jawando about the legislation:
Council President Sidney Katz and Councilmembers Craig Rice and Nancy Navarro are cosponsors
Councilmember Jawando says there will be a public hearing on the COVID-19 Renter Relief Act on Tuesday, April 21. Amendments will be considered on Thursday, April 23.
Councilmember Jawando's remarks at the introduction of the bill can be viewed here.
Thank you Councilmember @willjawando. The #rentfreeze provision in Montgomery County bill 18-20 is critical. https://t.co/pIMY8u0C1D

— Jheanelle Wilkins (@JheanelleW) April 15, 2020