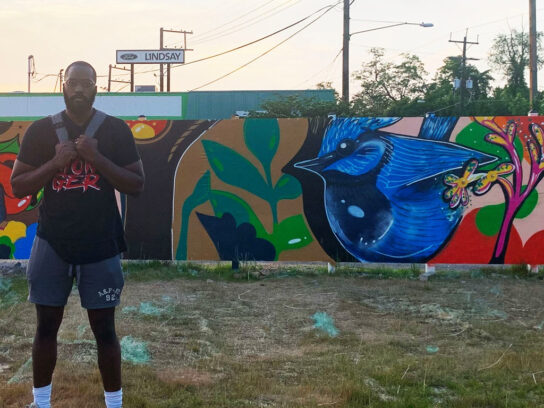 Wheaton's new art installation, Connection as a Cornerstone to a Strong Community, is located at the corner of University Boulevard and Veirs Mill Road. The installation, which includes four original banners and three original murals, spans more than 500 feet long and six feet high. Three mural artists — Aundrae Williams, Lelia Quri, and Sandra Perez-Ramos — interpreted the theme using brilliant acrylic colors, graphics and images applied directly to a plywood canvas.
"My art depicts two hands of different colors showing the variety in demographic of people who live in our area," wrote Aundrae Williams in his artist statement. "Behind each hand is a different background which shows we all have different backgrounds that shape our perspectives of people and the things around us," he continued. Lelia Quri said she drew upon "women's relationship with water sources and agriculture on a global level" as the inspiration behind her work.
The four banner artists — Robert Cohen, Felisa Federman, Dinah Myers Schroeder, and Naomi Weintraub — completed their work digitally, and then their original work was scanned and reproduced onto a high-quality vinyl banner affixed to a perimeter fence.
The public can visit the installation and learn more about the artists by scanning the QR codes located near each piece.
The art installation was commissioned by the Wheaton Gateway partnership for the site of the proposed mixed-use residential and retail property development known as Wheaton Gateway. The development project is led by a partnership of The Duffie Companies, Willco, and the Housing Opportunities Commission of Montgomery County. Currently, the development is in the planning and approval stages. Construction is not anticipated to start before 2023.