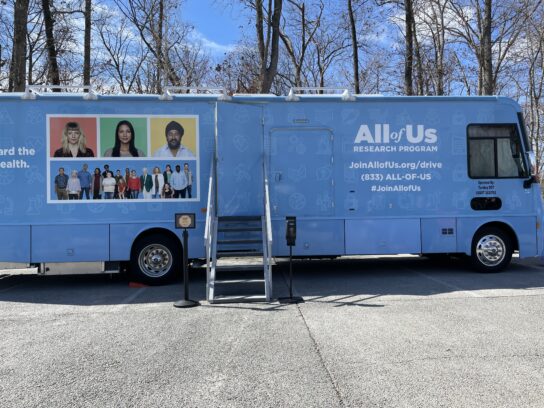 The National Institutes of Health relaunches their All of Us Journey this week after a more than 2-year hiatus. The project aims to gather health information from diverse populations with the goal of improving medical care for "All of Us".
The agency hopes to gather profiles from more than a million Americans. And they have assembled a roadshow to travel around the U.S to encourage Americans to join the research effort.
If you opt for full participation, NIH will analyze your DNA for free and keep you updated on breakthroughs that could impact your health. It's called Precision Medicine, a new personalized approach to healthcare. All medical information remains confidential and is only shared with the participant.
MyMCMedia spoke with an NIH ambassador about the far-reaching study.
This week through Friday,  you can find out more at the White Oak Recreational Center, 1700 April Lane in Silver Spring, from 10 a.m. to 5 p.m. You can take some surveys and even give genetic samples if you want to fully take part in the survey.
If you miss the roadshow, don't worry. You can still join All of Us here.