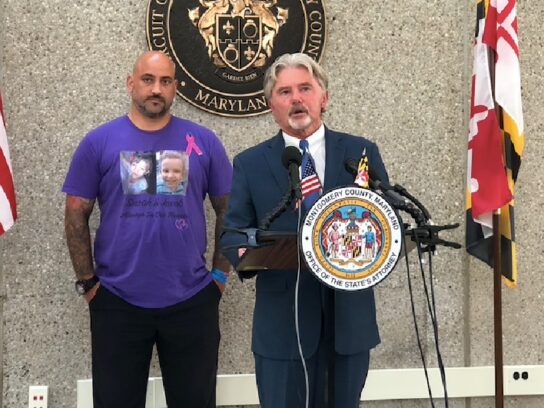 A judge did not make a decision regarding Catherine Hoggle's competency to stand trial during a Thursday hearing.  
Hoggle is charged with murdering her two young children, Sarah and Jacob Hoggle, last seen in her care in 2014. Circuit Court Judge Richard Jordan, who is presiding over this case for the first time, said Thursday he was not prepared to make a decision. He said he needs to go through other exhibits and digest the arguments he just heard for the first time. 
Jordan said that if he must, he will make a decision based on written reports discussed during the hearing, but he is not comfortable doing so at the moment. He wants to hear from witnesses. 
During Thursday's proceeding, McCarthy referenced reports from doctors saying Hoggle was incompetent. He, however, believes there is evidence to prove the opposite.
Montgomery County State's Attorney John McCarthy asked the judge to voir dire, or question, Hoggle to help make the competency decision. 
McCarthy told reporters he requested the voir dire because he believes there has been some misinterpretation by doctors at the Clifton T. Perkins Hospital Center regarding Hoggle's competency.
Following the hearing, David Felsen, Hoggle's attorney, told reporters it 's clear the only evidence admitted Thursday was that Hoggle is incompetent. 
Another hearing date is tentatively set for Oct. 7 but needs to be confirmed. 
Troy Turner, father of Sarah and Jacob Hoggle, said the judge seemed to act fairly and his side will move forward and do anything they can to help get the truth about his children.
"The fact of the matter is, we have two kids that we have not seen in almost eight years and we are hoping to get some justice for them, and the first step is to get to competency and get through this part," Turner said following the hearing.