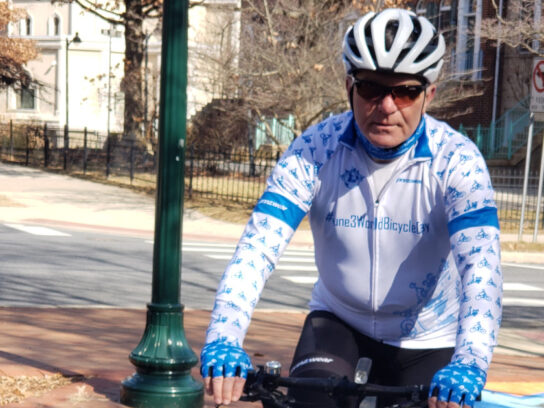 Leszek Sibilski has been cycling "since I was basically born." He rode in the 1980 Olympics for his native Poland and was ranked sixth in the world and second in Europe around that time and a member of the Polish national cycling team for 10 years.
Moving to North Bethesda more than two decades ago didn't slam the brakes on his enthusiasm. He continues to cycle 10 to 15 miles on weekdays and 30 to 40 miles on weekends, often with this wife. His favorite trails are the Bethesda Trolley Trail –  where MyMCM caught up with him – and the Capital Crescent Trail.
Back in 2016 while taking a brief break along the Bethesda Trolley Trail, he began thinking big and decided to work toward a World Bicycle Day. Two years later, on April 12, 2018, the General Assembly of the United Nations adopted a resolution proclaiming World Bicycle Day. His efforts paid off, and all 193 voting members cast positive votes.
This June 3 marks its fifth anniversary. "It is a global holiday" with the goal of "inviting, encouraging, promoting and engaging people" in cycling. "This is very unique. This is global," Sibilski said.
He loves the sport, because it is easy to do, doesn't harm the environment and keeps people healthy. And, he added, "It makes you happy."
His native Poland renamed a street to World Bicycle Day Avenue, and Sibilski hopes Montgomery County will consider naming a street, park, bridge or other landmark so that residents and visitors will know the county celebrates World Bicycle Day.
He grades the county with a B, not for biking but for good but not great. There are great trails and bike lanes, but to get an A from Sibilski, the county will need to add bicycle parking spaces all over, not just by trails. That would encourage people to ride to stores and when doing errands.
In many cities and countries, riding a bicycle for anything other than exercise implies the cyclist is poor, according to Sibilski,who believes World Bicycle Day can end that stigma.
Here is what he told MyMCM.