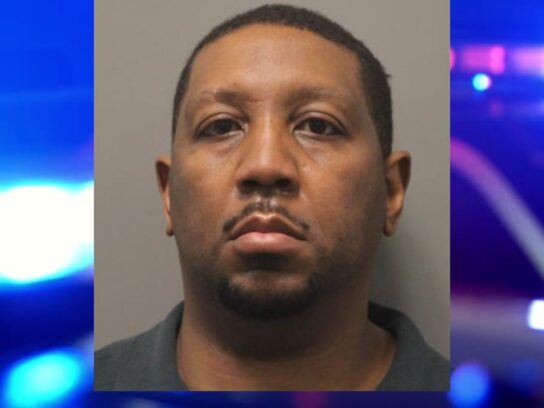 Update (April 2): The North Kensington man that's behind bars for killing his wife last month was indicted for murder in court on Thursday, according to the Montgomery County State's Attorneys Office.
43-year-old Reginald Dunlap is accused of murdering his wife, 40-year-old Lauren Elizabeth Charles, after she was found dead in their home on the 11600 block of College View Drive on March 7. Authorities say he told police he found her dead and tried to cover up.
Court records show that Dunlap has a scheduling hearing on April 9, at 8:30 am, where the judge will meet with attorneys and set a date for a trial regarding this case.
[hr]
Original Post [March 9]: A North Kensington man has been arrested for the murder of his wife, and police allege he tried to cover it up.
Reginald Dunlap Jr., 43, is now charged with first-degree murder of his wife, 40-year-old Lauren Elizabeth Charles, after she was found dead in their home on the 11600 block of College View Drive.
According to Montgomery County Police, Dunlap called 911 shortly after 1:00 p.m. Sunday. In that call, he claimed he found his wife dead after returning from church.
Responding officers said they smelled bleach in the home and saw what appeared to be blood on Dunlap's hand. Court documents state that there was also suspected blood on the floor and walls of the master bedroom where Charles was found. The room appeared to be ransacked, and evidence showed that Charles was injured prior. Police also found empty paper towel packaging in the trash and a scrub brush that was still dripping wet.
Reginald Dunlap Jr., age 43, was arrested and charged with the murder of his 40yr old. wife. She was located deceased inside the couples North Kensington home yesterday afternoon.

For additional details, visit: https://t.co/jptaUoMuI5 pic.twitter.com/K3SuCSm8Dd

— Montgomery County Department of Police (@mcpnews) March 8, 2021
A police investigation revealed that the person responsible for the crime took a significant amount of time to attempt to clean the scene and destroy evidence on the victim's body. No evidence of forced entry was found at the home, according to deputies.
Court documents show that the couple was in the process of separating, something Dunlap expressed he did not want.
Charles' body was transported to the Office of the Chief Medical Examiner in Baltimore, where an autopsy will be conducted to determine the cause of death.
Dunlap was arrested and transported to the Central Processing Facility, where he is being held without bond.
Investigators are asking anyone with information related to this investigation to call detectives at 240-773-5070.