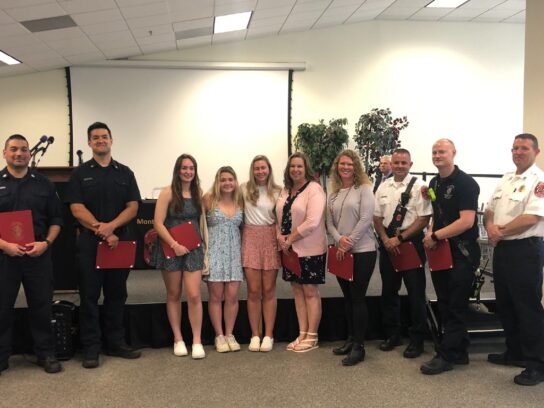 At Northwest High School's Class of 2022 Senior Night Celebration on May 26, Montgomery County Fire Rescue Services surprised senior Caleigh Wilson for demonstrating life-saving abilities at a Lifetime Fitness center in December 2021.
Captain and paramedic Pete Dugan surprised Wilson with the Maryland EMS Right Care, Right Time Award. Dugan also recanted the heroic actions of Wilson to the audience.
On December 27, 2021, Wilson was on duty as a lifeguard at Gaithersburg's Lifetime Fitness. "Shortly after 3 p.m., Caleigh realized a swimmer was in distress," Dugan said. "As Caleigh was exiting her chair, the swimmer briefly went underwater, then remerged."
The distressed swimmer moved to the pool's side wall and hung on for support. When Wilson reached his side, the swimmer told Wilson he felt "like he was drowning," according to Dugan. The man then lost consciousness.
Wilson grabbed the man's arm, keeping him from submerging, and called other lifeguards for assistance. Two other lifeguards helped Wilson extract the man from the water. It was determined the patient was not breathing and did not have a pulse.
The lifeguards called 9-1-1 and immediately began CPR. The team used the AED paddles to shock the patient three times before MCFRS was able to arrive. The lifeguards continued compressions and ventilation of the patient until MCFRS arrived and assumed care.
MCFRS needed to shock the patient three more times before transporting him to a hospital. During the transport, the patient regained consciousness.
Wilson also received the Everyday Heroes Award from MCFRS on May 11. The swimmer, now in Israel, sent a video message thanking Wilson and the team for saving his life.
.@mcfrs @MCFRS_EMIHS Captain/Paramefic Pete Dugan presents 'Every Day Hero Award' on behalf of Fire Chief Scott Goldstein, as well as @MarylandEMS 'Right Care When It Counts' Award to HS Senior Caleigh Wilson for her lifesaving actions @MontgomeryCoMD pic.twitter.com/duCU2h8JEZ

— Pete Piringer (@mcfrsPIO) May 26, 2022