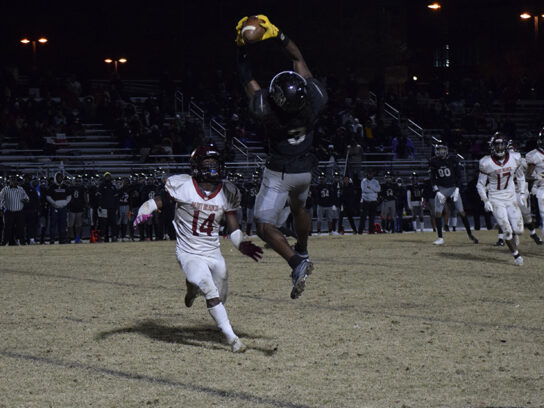 After pouncing on the Churchill Bulldogs 42-6 in the quarterfinal round of the playoffs, the Northwest Jaguars were looking to dig deeper into the playoffs against the Paint Branch Panthers Friday night.
The Jaguars defense came out on their heels as they allowed quarterback Octavian Smith Jr. to run for a 77-yard touchdown on their opening drive to put the Panthers up 7-0. On the ensuing kickoff, the Jaguars came roaring back with a return that landed them in Panther territory. A few plays later, quarterback Darius Lorfils maneuvered into the end zone to cut the lead to 7-6. The Jaguars added a field goal at the end of the first quarter for a 9-7 lead that they never relinquished.
The Jaguars rushing attack, led by running back Anthony Berry, wore the Panthers defense down throughout the game. Berry racked up over 100 yards rushing on the night and added a touchdown in the second quarter to push the lead to 17-7. "You might be the smallest guy on the field, but you've got the biggest heart," Head Coach Travis Hawkins said to Berry.
In the third quarter, Darius Lorfils delivered an early dagger as he trotted into the end zone for his second rushing touchdown to extend the Jaguar lead to 33-13. Despite a late rally, the 20-point deficit was too much to overcome for the Panthers as they fell to the Jaguars 33-26.
The 4th seeded Jaguars advance to the semifinals to play at the top seeded Quince Orchard Cougars, whom they lost to 31-0 in the regular season.
"It doesn't get any better than this. You get another shot at a team that put a blemish on your record. Going into this game, in a sense, you can call it a revenge game. It's gonna be at their house. The atmosphere is going to be electric, so it should be fun. It should be a good challenge to look forward to."
The Northwest-Quince Orchard rematch will take place on Friday at time yet to be determined.
Pregame https://t.co/77jkhOlW3Z

— Travis Chase (@TravisDC95) November 20, 2021
Here is a link to the MPSSAA States Playoff Bracket.