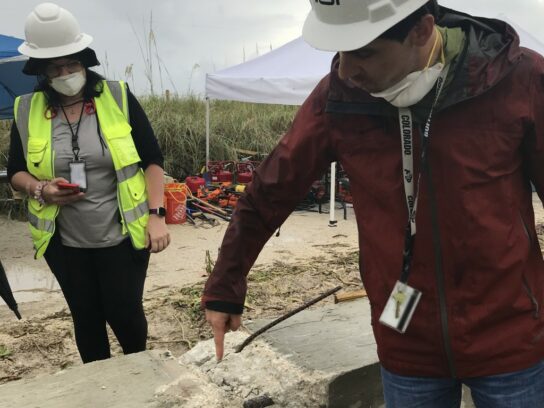 The U.S. Department of Commerce's National Institute of Standards and Technology, which is headquartered in Gaithersburg, has launched a full technical investigation into the cause of the partial collapse of a condominium in Surfside, Florida on June 24.
The investigation about the Champlain Towers South condominium could take years and is aimed at creating recommendations for building code improvements to avoid a similar incident, NIST noted in a news release.
"This is an unspeakable tragedy, and like all NIST investigations, we will conduct a fact-finding study to prevent tragedies like this in the future," said James Olthoff, who is currently performing the duties of the undersecretary of commerce for standards and technology and NIST director. "We intend to undertake a thorough technical investigation into what caused the collapse, to ultimately make recommendations that would make our buildings safer and keep something like this from happening again. This effort will take time, but we will work on this as long as necessary."
There are millions of high-rise condominium units in Florida alone, many of them near the ocean or aging. While an NIST investigation is intended to identify the cause of the Champlain Towers South collapse, it could also uncover potential issues for other similar buildings nearby and throughout the nation, it noted in the release.
The U.S. Congress in 2002 authorized NIST to send experts to a building failure where many lives were lost. As of Thursday, authorities reported that 18 lives were lost and another 145 people are still missing.
NIST is not involved in the location or rescue of those buried in the rubble.
Previously, NIST employees have investigated the 2001 World Trade Center Disaster, the 2003 Station nightclub fire, the 2011 Joplin tornado and Hurricane Maria.
NIST decided that the condominium building collapse met its criteria to investigate as it was a major building failure and that what its team learns "will likely result in significant and new knowledge or building code revision recommendations needed to reduce or mitigate public risk and economic losses from future building failures," it noted in the news release.
NIST is a federal research laboratory with expertise in engineering and other technical areas. It was established in 1901.
NIST seeks information from the public for its investigation into the building collapse in Surfside, Florida. Share your photos, video and other info here: https://t.co/LUPGsdrhjC @MiamiHerald @UnitedWayMiami @WPLGLocal10 @CBSMiami @wsvn @WLRN @nbc6 pic.twitter.com/q6gvsbBn6f

— National Institute of Standards and Technology (@NIST) July 1, 2021