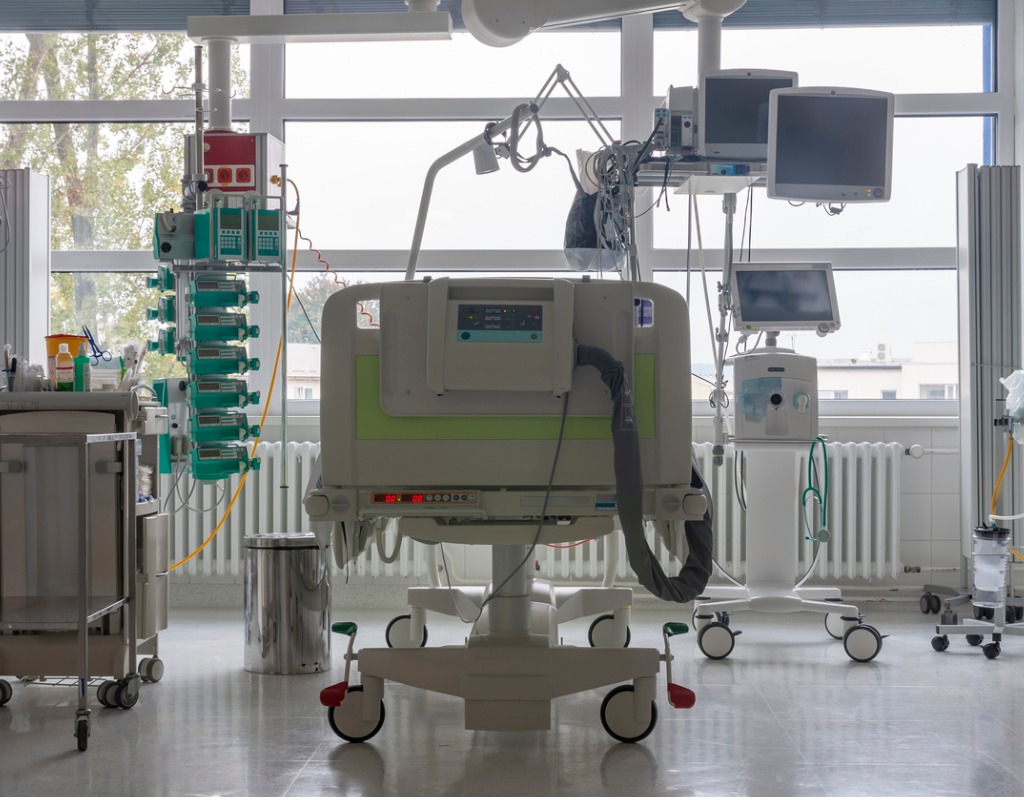 Occupancy of Hospital Beds Surpasses 80% Mark
As the number of Montgomery County residents with COVID-19 continues to spike, area hospital beds are filling up. As of Thursday morning, 1,720 Maryland residents are hospitalized due to the coronavirus with 416 of those patients in the intensive care unit.
According to the Montgomery County COVID-19 portal, as of Dec. 9, 78% of the intensive care unit beds here were occupied. The percentage of overall hospital inpatient beds occupied was 80.2%. The percentage of hospital inpatient beds that were occupied on Dec. 9 with COVID-19 patients was 20.5%. It was 22.1% on Dec. 7.
CHATS – County/Hospital Alert Tracking System – cited Adventist Hospital White Oak Medical Center in Silver Spring as the most full hospital in the county. Its red alert status means it has no electrocardiogram-monitored beds available, which includes all-inpatient critical care areas and telemetry beds, according to the system which is done by the Maryland Institute for Emergency Medical Services System. It also means that the emergency department "temporarily requests that it receive absolutely no patients in need of urgent medical care."
A spokesperson from Adventist HealthCare White Oak Medical Center said the facility "has capacity in its Intensive Care Unit and has the ability to safely expand critical care into other areas should the need arise. COVID-19 hospitalizations at White Oak Medical Center have not reached the levels seen during the first surge."
According to Lydia Parris, director of public relations and marketing at the White Oak hospital, a red alert status is not related to the number of patients in the hospital. Instead, "it enables the hospital time to resolve temporary operational delays that may impact emergency care and allows the hospital to resume accepting ambulances as soon as the hospital can."
At Adventist's facility in Shady Grove, a spokesperson noted, "Since mid-November,  Adventist HealthCare Shady Grove Medical Center has seen a steady increase in the number of COVID-19 related hospitalizations compared to recent months; however, our numbers have not yet reached those we saw during the first surge in late spring. At the start of December, we opened up a second ICU to help accommodate both COVID-19 and non-COVID-19 cases. At this time, we still have critical care capacity and have the capability to expand to a third ICU if necessary."
Our hospitals are at 75% capacity and 20% of the beds are patients with Covid.

This is not a drill. https://t.co/6gvDc8XALr

— Evan Glass (@EvanMGlass) December 10, 2020
Hospitalization rates from #COVID19 continue to climb across Maryland. Help #StopTheSpread & save lives by wearing a mask, staying home as much as possible, washing your hands, staying 6 feet away from others & getting tested. #JustDoIt #StaySafeStayHealthy pic.twitter.com/PfSRWCO1L4

— Montgomery Council (@MoCoCouncilMD) December 10, 2020
Area Hospitals @MontgomeryCoMD are BUSY – SEE @MarylandEMS Hospital Alert Status https://t.co/apKxBSlego Typically when hospitals are busy so are area EMS crews @MCFRS_EMIHS @mcfrs pic.twitter.com/R2sbpUu57J

— Pete Piringer (@mcfrsPIO) December 10, 2020