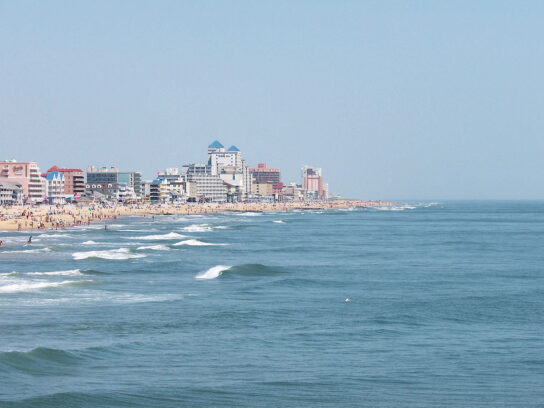 Ocean City's beach, boardwalk and inlet parking lot will be open Saturday, the start of Mother's Day weekend, following an emergency declaration by Mayor Rick Meehan Monday night.
It remains to be seen whether beach goers will flock to the beaches or shy away as people stress over possibly lying next to someone who has COVID-19.
Meanwhile, both the number of cases and deaths related to COVID-19 continue to rise in Maryland.
As of Tuesday, there were 27,117 confirmed cases in Maryland, an increase of 709 cases since Monday. There were 1,290 deaths statewide due to COVID-19, a one-day increase of 74.
Ocean City council secretary Mary Knight said council was "100 percent" behind the decision to test the waters.
She called the decision to open the beach and boardwalk May 9 "baby steps."
A joint statement from Jessica Waters, Ocean City's communication manager, and Mike Ricci, director of communications for Gov. Larry Hogan, noted, "This is a way to give residents more opportunities to get outside and enjoy fresh air, while still adhering to social distancing guidelines and gathering limits. The governor's stay-at-home order remains in effect."
Ricci affirmed on Twitter that the beach opening is designed only for locals.
However, a woman answering the phone at Ocean City town hall said, "I think anyone is allowed to come to the beach and boardwalk" as long as they don't gather in groups of more than 10.
According to weather.com, the first beach day of the season won't be ideal, but no rain is in the forecast. It is predicted to be a partly cloudy and windy day with a high of 53 degrees.
On Tuesday morning, the ocean temperature was 57 degrees.
Hotels will remain open only for essential workers so visitors won't be able to check into a room over the Mother's Day weekend.
Masks for the sun bathers will not be required.
According to the Dispatch, a newspaper covering Greater Ocean City, Reopen Maryland along with three state delegates have filed a lawsuit in U.S. District Court "seeking an end to Gov. Larry Hogan's restrictions aimed at curbing the spread of COVID-19."
The suit questions whether Hogan has the authority to close businesses and prohibit groups of more than 10 from gathering.
A petition by Reopen Maryland, which had garnered more than 5,700 signatures Tuesday, urges Maryland to "immediately reopen our state's business, educational and religious institutions."