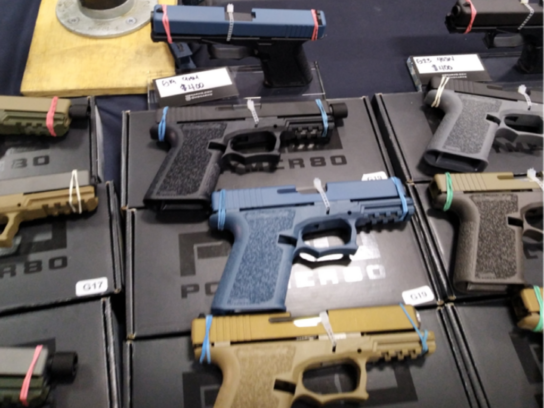 Maryland Attorney General Brian Frosh and other state legislators and officials spoke out Thursday on the need for Maryland to enact a law that prohibits ghost guns. They are weapons made from kits, have no serial number and are untraceable.
Under the bill, which has been proposed in the Maryland legislators for several years, gun owners or manufacturers would be prohibited from selling, lending or leasing untraceable or unfinished guns unless the buyer can produce a valid handgun qualification license issued by the state police.
Frosh believes 2022 is the year that ghost guns will be outlawed here. Previous bills contained several definitions and descriptions of ghost guns that will be left out of this year's bill because the federal Bureau of Alcohol, Tobacco, Firearms and Explosives now has established the definitions, which include ghost gun kits as firearms.
Maryland's bill, which is being sponsored by Sen. Susan Lee (D-16) and Delegate Lesley Lopez (D-39), is expected to be introduced in the next few days.
A ghost gun was used in last August's shooting at the Plum Gar Community Recreation Center in Germantown in which 14-year-old Shilen Wylie has been charged with one count of murder and three counts of attempted murder.
Between 2019 and 2021, police in Montgomery County saw a five-fold increase in the use of ghost guns, according to Maryland State's Attorney for Montgomery County John McCarthy.
"Ghost guns are a threat to our nation, state, our counties and our cities," he said during the virtual press conference. "These are firearms. They must be serialized," he said, noting that ghost guns have been seized from teen-age students.
Sen. William Smith (D-20) said that in his district which covers Silver Spring, there have been 276 firearms seized between 2016 and 2020. Twenty four of those weapons did not have a serial number.
In 2019, Montgomery County Police confiscated six ghost guns. In 2020, the department recovered 73 of these guns, which are made of plastic so they can't easily be found by metal detectors.
All someone has to do to make a ghost gun is watch a You Tube video, Frosh said. "They have been viewed millions of times," he added. "In an hour or less, you can have a workable handgun."
Under the proposed bill, the sale and receipt of a ghost gun would be banned as of June 1. Possession of an unserialized gun would be banned as of Jan. 1, 2023, giving anyone with a ghost gun a chance to get it serialized and registered, Frosh explained.
If the bill becomes law, anyone found guilty could be sentenced to a maximum of three years in prison and fined a maximum of $10,000, according to Frosh.
Lopez noted that the bill goes after the supply chain, not just those using the guns. During her efforts to write the bill, she learned how to make a ghost gun, she said.
"Ghost guns have been weapons of choice for so many," from teens to terrorists, Lee said.
"Ghost guns are no different than guns," said Maryland State's Attorney for Prince George's County Aisha Braveboy. "They are treated differently, but they act the same. They have the same deadly consequences."
Related Post
Council Unanimously Votes to Restrict Undetectable Ghost Guns