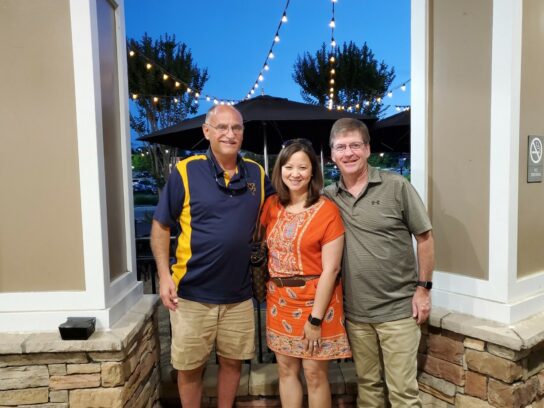 Olney mother Mannie Wong was reunited with two retired fire and rescue officials who saved her life Feb. 1 at an automated external defibrillator (AED) and CPR training session hosted by the Olney Rotary Club.
Retired Paramedic and Captain Jeremy Gruber of the Montgomery County Fire and Rescue Service (MCFRS) and Retired Battalion Chief Henry Welsh of the D.C. Fire and Emergency Medical Services (EMS) came to the rescue about a year ago at Redland Middle School, where Wong's son was playing in a basketball game.
Gruber and Welsh saw Wong having a seizure and jumped to action. The men performed CPR and used an AED to save Wong's life. Gruber told NBC Washington reporter Derrick Ward that Wong was shocked in under two minutes of her collapsing and was starting to have circulation just a moment after. 
The training session on Feb. 1 was organized to make sure community members know how to act in the event of a health emergency like Wong's. 
Learning to Save Lives @MontgomeryCoMD in Sandy Spring TODAY in conjunction with the only Rotary club, Rescue 1 Training & @mcfrs, hundreds have signed up for free training – We'll meet a (cardiac arrest) SURVIVOR, too https://t.co/1DKqMMmn2H

— Pete Piringer (@mcfrsPIO) February 1, 2020
"She's fine today because there's an AED in the school and people around who knew what to do," Gruber said before the training started, according to a video from MCFRS Chief Spokesperson Pete Piringer. 
Wong thanked Gruber and Welsh. 
"If they hadn't been there and if the defibrillator hadn't been there I wouldn't be here with you guys today," she said. 
Rescue One is an organization Gruber works for that provides training in AED, CPR, first aid and other safety techniques. He said the organization has a program called Forward Hearts, in which cardiac arrest survivors who had to use a defibrillator can donate another one to a charity of their choice. 
On Saturday, Gruber and Wong gifted an AED to the Olney Rotary Club. 
Community Engagement – Hundreds turned out @MontgomeryCoMD in Sandy Spring for FREE Community CPR & AED Training (In Support of Olney Rotary Club (AED) project) https://t.co/K8j24WjPbM & to learn about AEDs & how to save lives. Thanks to Rescue One, CPR Montgomery & Olney Rotary pic.twitter.com/FY8Kdb5dAK

— Pete Piringer (@mcfrsPIO) February 1, 2020