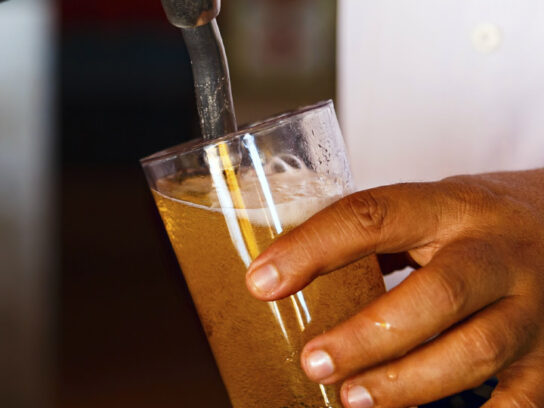 Maryland's annual celebration of the state's craft beer industry, known as FeBREWary, takes place this month.  According to the Brewers Association of Maryland, there are more than 100 operating breweries in Maryland, with 11 located in Montgomery County.
Residents have the opportunity to save money and energy by trading in old incandescent or compact fluorescent light (CFL) bulbs for free LED light bulbs thanks to a program by local breweries and the Montgomery County Department of Environmental Protection (DEP).  The program, 'Brews and Bulbs,' began in 2019.
Participants may bring as many bulbs as they have available to receive a maximum of three or four LED bulbs for free.
The "Brews and Bulbs" program is designed to assist residents in cutting down on electric bills and to help ensure that plastic and dangerous substances, like mercury, do not enter the waste stream.
At each event, DEP staff will explain what color light bulb is appropriate for various uses, show residents how to reduce their energy bills by switching to LED bulbs, and save money on electric bills. On average, LEDs consume 80% less energy when compared to incandescent light bulbs. When people visit one of these breweries during the month of FeBREWary, DEP will swap up to 4 bulbs at no cost.
Last year, during the "Brews and Bulbs" program, DEP collected 1,443 bulbs.
Here's the schedule:
Wednesday, February 5, 2020 from 5 – 7 p.m. at Saints Row Brewing
1211-1213 Taft Street, Rockville
Thursday, February 6, 2020 from 5 – 7 p.m. at Brookeville Beer Farm
20315 Georgia Avenue, Brookeville
320.260.1000
Friday, February 7, 2020 from 5 – 7 p.m. at 7 Locks Brewing
12227 Wilkins Avenue, Rockville
301.841.7123
Tuesday, February 11, 2020 from 5 – 7 p.m. at Silver Branch Brewing
8401 Colesville Road #150, Silver Spring
info@silverbranchbrewing.com
Thursday, February 13, 2020 from 5 – 7 p.m. at Waredaca Brewing
4017 Damascus Road, Laytonsville
301.774.beer
Friday, February 14, 2020 from 6 – 10 p.m. at Love Thy Beer Event
Silver Spring Civic Center, Silver Spring
Wednesday, February 19, 2020 from 5 – 7 p.m. at Denizens Brewing Company
1115 East-West Highway, Silver Spring
301.557.9818
Thursday, February 20 from 5 – 7 p.m. at Elder Pine Brewing and Blending
4200 Sundown Road, Gaithersburg
Thursday, February 27, 2020 from 5 – 7 p.m. at Astro Lab Brewing
8216 Georgia Avenue, Silver Spring
301.273.9684
Friday, February 28, 2020 from 5 – 7 p.m. at True Respite Brewing Company
7301 Calhoun Place #600, Derwood
301.284.8447